Is Ghana Passport Worthless?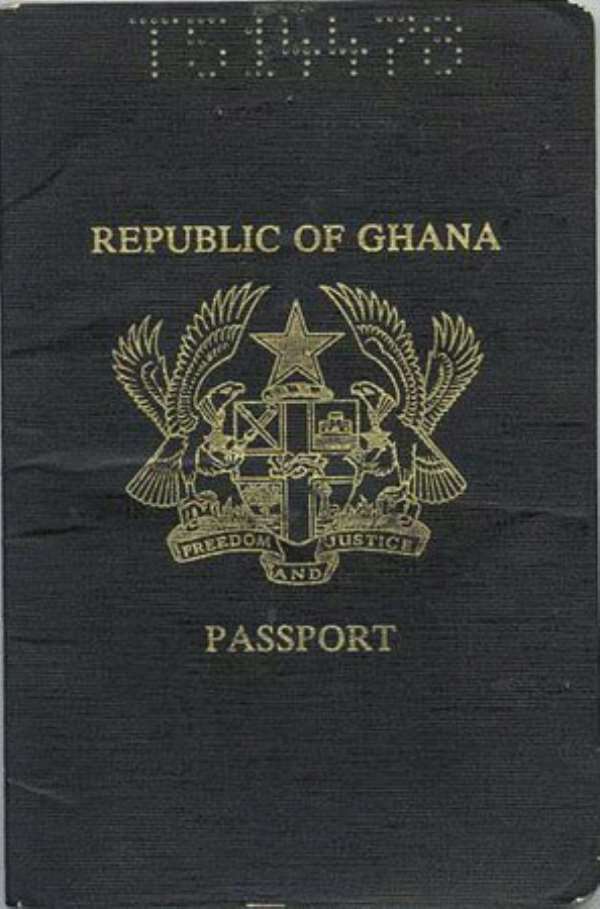 IF SOMEBODY should ask me the happiest day in my life, I will probably mention 6th March 2007. It was this day that I received so many congratulatory messages from friends and University Professors in far away Toronto, Canada after watching the golden jubilee parade in Accra on the various television networks in the North America country.
Did you watch CBC TV (Canadian Broadcasting Corporation) today? There was a fantastic display about the Ghanaian culture, So Ghana was the first black African country to gain independence from the colonial rule, I hear your economy is also doing well, these were some of the questions that I was asked after Ghana's golden jubilee celebration which received wide publicity in the western media.
To cup it all the Head of the U.S. Consulate in Toronto, Mr. John Nay also told me that Ghana was a success story in West Africa. He mentioned political stability and the gradual picking up of the economy, which he said the U.S. government was proud of.
THE GHANAIAN PASSPORT With all these "degrees" in my bag would it then be proper or patriotic for me to ask this simple question: Is the Ghanaian passport worthless? Before writing this piece, I pondered over this question several times but in the end I said to myself I am only telling Ghanaians the truth as it pertains on the ground.
It has nothing to do with the word "unpatriotic". The gospel truth is that it is really a hell to travel on the Ghana passport and we as Ghanaians better watch.
After being subjected to embarrassing questions and unnecessary delays at the various airports that I used during my visit to Canada last year, what came to my mind was whether traveling on Ghanaian or African passport or having a black skin was a crime.
For I could not fathom why I was bombarded with several questions and checking of my passport with security device anytime I turned it in at the immigration but the white passengers were not subjected to the same ordeal.
My problem began immediately I disembarked from a British Airways flight at the Person International airport in Toronto last year. A security man standing at the entrance of the aircraft demanded my passport and when I handed it over to him he started asking me questions, which I responded, but he was still not convinced. He then put my passport in his pocket and asked me to stand aside.
I stood there like a common criminal until all the passengers disembarked from the plane before my passport was handed back to me to proceed to immigration.
This was even done after a superior officer to the security man questioned him about the reason why he should seize my passport.
SNIFFER DOGS Earlier at the Heathrow airport in London where I changed plane, I was subjected to sniffer dog check right at the entrance of the bridge linking the aircraft. I was however not surprised because I left Ghana at the time cocaine had become a topical issue in the country. Besides there were no discrimination. Whether you were white or black all of us went through the sniffer dog check.
At Piaco international airport in Port of Spain, the capital of Trinidad and Tobago in the Caribbean, I again went through similar embarrassing questions when I was about to leave the country for reasons I myself could not understand.
This lady immigration officer simply decided to subject me to interrogation, which she did not do to others who were ahead of me. Meanwhile I did not enter the country illegally neither was I found carrying any illegal goods.
I also had a genuine Canadian visa, which this immigration officer herself checked and realized it was correct. At certain stage I nearly lost my temper but I have to control myself since I have found myself in her country.
SILLY INTERROGATIONS
The worst of my ordeal was to happen to me at Mexico International Airport in Mexico City. I was the only black man in the long queue leading to the immigration. Whilst in the queue I saw this immigration officer simply collecting the passport from the passengers and stamping them without any scrutiny because they were American, Mexican or Canadian passports.
But immediately I turned in my Ghanaian passport, she put the stamp aside and started scrutinizing it from page to page amid questions. She even questioned me how I came by an American visa, something that appeared rather strange to me.
Despite all the answers that I gave and her checking of the visas in my passport, which were all found to be genuine, she was still not convinced so she took my passport and went to certain room to show it to her superior.
I did not know what they discussed in the room but she returned later to stamp the passport and then handed it over to me. Passengers who were in my queue thought I was delaying them and angrily left to join the other queue.
As I was leaving her I started complaining to a Canadian colleague I was traveling with why I was being subjected to all forms of interrogations when I was traveling with genuine documents.
With all these experiences I nearly turned down an invitation from my American journalist friend to New York. For if developing countries like Mexico and Trinidad could subject me to such interrogations then I do not know what would happen to me in an important place like New York. Surprisingly I never had any difficulties at the U.S. immigration in Toronto.
When they saw that my U.S. visa was a genuine one, they only stamped it and allowed me to proceed to the boarding gate.
!YOU ARE A GHANAIAN HO Though entering the country was a smooth sailing one, my problem again surfaced at the LaGuardia airport in New York City when I was coming back to Toronto.
After checking in and walking towards the security gate at the departure hall, I saw a lady security officer talking to some travelers.
Thinking that it was a mere conversation I decided to by pass them but I was signaled to come back which I obeyed.
The lady then demanded to see my passport and knowing the disregard they have for Ghanaian passport I decided to open the page where I have my particulars and then put in my boarding pass.
But immediately I handed over the passport to her she decided to close it just to read the name of the country on whose passport I was traveling. Oh so you are from Ghana? She asked. Yes, I also responded.
She then made some sign on my boarding pass and directed me to join a short queue for my security check. Initially I thought the lady had been so kind to me because the two other queues I saw were too long but the lady had different thought.
Unknown to me she had indicated on the boarding pass that I should be subjected to special security check. When my shoes, winter jacket and belt came through the X-ray machine, I decided to pick them up but I was ordered to put them back immediately.
My heart then began to beat since I did not know what they had found in jacket and other items.
The security officers then took the items to another machine for special examination. When they did not find anything incriminatory they apologized to me, helped me to wear my jacket and then asked me to proceed to my boarding gate. In the plane back to Canada I again started asking myself whether it was a crime to travel on Ghanaian passport.
At Vitaa Airport in Helsinki, Finland I again went through the interrogation ordeal despite the fact that I had genuine documents giving to me by the Finish embassy in Canada that I was in Finland on the invitation of the foreign ministry.
Some Chinese and other Asian nationals who were in my queue thought I was delaying them and started murmuring.
This time I lost my temper and decided not to answer further questions from the immigration officer.
One of the Canadian journalists I was traveling with then ventured forward to tell the immigration officer that the government had dully invited me and that I was traveling with them.
It was after this that my passport was stamped and allowed to leave the immigration.
GHANA'S COCAINE BUSNESS After this one of my colleague Canadian journalists told me that though they are far away they have been reading a lot about the cocaine business going on in Ghana and that I should not be surprised with my ordeal.
This had nothing to do with cocaine they simply had no respect for my Ghana passport, I shot back though I knew there could be substance in what he was saying.
Fortunately for me I never went through this ordeal again when I arrived in Stockholm in Sweden and Berlin in Germany because we landed in the domestic terminals at the airport, which did not permit us to go through immigration.
When I arrived at Heathrow airport from that of Tegel in Berlin for the second time on my way back home I never suffered any difficulty.
I do not think that I am the only Ghanaian who had gone through this ordeal. Many Ghanaian travelers certainly will have a story to tell if they were asked to do so. So the big question once again is Ghana passport worthless?
If the cocaine business is the cause of this, is Ghana the only country that cocaine cases had been reported? Are other countries like those in Europe also not having their share of this illegal trade?
I do not however believe that it is the official position of the various countries I have mentioned to treat the Ghanaian passport holder in such a way.
In fact I was amazed with the kind of reception I received when I went to the Canadian High Commission in Accra and the American consulate in Toronto to apply for my visas.
I was treated in a dignify way but when you enter the country the immigration officers see you with different eyes.
As I stated somewhere if it is the cocaine business that is causing us this embarrassment then we as Ghanaians better sit up. But if this is not the case then our government has work to do to raise the image of the Ghana passport abroad.
By Emmanuel Akli
Accra