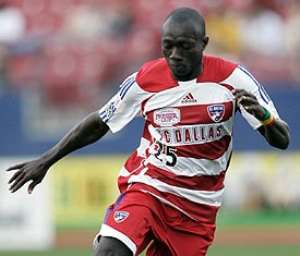 Dominic Oduro's national team call-up fell through due to logistics. (Rick Yeatts/MLS/WireImage.com)
FRISCO, Texas -- FC Dallas was originally supposed to have four players missing this Sunday's match at Houston Dynamo because of call-ups by various national teams. But that number dwindled to three when speedy second-year striker Dominic Oduro, who was supposed to play for the Ghana under-23 national team this week against Nigeria, learned over the weekend that he would not be joining the team for that match.
Oduro wasn't just looking forward to playing for his country for the first time, but was also anticipating getting to see his family, something that he hasn't gotten to do in some time. He was clearly disappointed with how things turned out, but intends to use that to his advantage.
"Yes, I'm disappointed," Oduro said. "I was really looking forward to it. It's complicated. I think the best thing is for me to stay here, continue doing what I'm doing and wait for the next time. Hopefully, the next time, I will get the call.
"You never know when you will get called up. I'm disappointed but I am still with this team. I will put all my frustration into the game we have coming up. That just keeps me going."
FCD is already missing captain and forward Carlos Ruiz, who has been called up by Guatemala for the 2007 CONCACAF Gold Cup. Losing Oduro would have left head coach Steve Morrow with just two forwards - current leading scorer Kenny Cooper and Abe Thompson, and make no mistake about it, Morrow is clearly happy to have Oduro available.
"He's happy to be here and we're happy to have him," Morrow said. "It's at a time where we're pretty thin up top. We were going into Sunday's game with just two strikers, so we're glad to have him available for us."
The FCD boss also sees the young Ghanaian using the disappointment of the canceled call-up as motivation to play well at Robertson Stadium.
"Yes, I do (think he will use that as motivation)," Morrow said. "I think he was disappointed with how it all worked out. It was a good opportunity for him to go over there, play and see his family, but he has turned it around and used it in his favor.
In the end, the whole thing boiled down to timing. FCD wanted a specific date when they had to release Oduro while Ghana was unable to provide such a specific timeframe.
"FC Dallas wanted a specific date they had to release me and Ghana didn't make it specific," Oduro said. "Right now, it's just too late for me to go because they're done with camp. It all came down to timing. They weren't specific about when they wanted me to be there."
Whether it's as a starter or substitute, Oduro is clearly looking forward to seeing the first action of his career against Dynamo. He was inactive for three of those matches last year and was an unused substitute in FCD's 1-0 win against Houston on Sept. 2, 2006 in Frisco.
"If you look at our record against Houston, we always find it tough when we go there," Oduro said. "Anything can happen in this league. It all depends on how well you keep the ball moving. If you can do that, then you will have something positive happen."
Steve Hunt is a contributor to MLSnet.com. This story was not subject to the approval of Major League Soccer or its clubs.