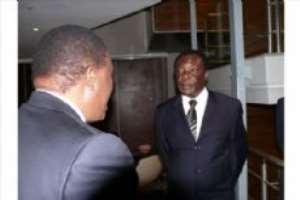 Ghana's sensational FIFA World Cup™ debut at Germany 2006 certainly caught the attention of Planet Football as the Black Stars showcased African football at its best.
Now, as the West African country prepares to host what promises to be one of the most exciting CAF African Cup of Nations finals ever in January 2008, Ghana is looking to score big both on and off the pitch.
The country is currently hard at work preparing for the 2008 continental finals and with South Africa also in full swing as it gears up to host the 2010 FIFA World Cup™, the two countries are pooling ideas, expertise and resources.
A Ghana government delegation, led by the country's Minister for National Security Francis Poku (pictured), was in South Africa recently and visited the SAFA House - headquarters of the 2010 FIFA World Cup Local Organising Committee South Africa (LOC).
The Ghana delegation was given a detailed briefing on the progress of South Africa's 2010 preparations by Committee officials, after which Poku remarked: "Ghana is preparing to host the African Nations Cup in 2008 and we have serious things in common with South Africa. I am quite impressed with the 2010 preparations taking place and that the stakeholders; government, private sector and various communities are all involved and are co-ordinating with their counterparts in Africa.
"We're learning the skills," he continued. "I'm amazed at how detailed the planning is. Everybody on the 2010 Organising Committee recognises the expectations of South African society and of the whole of Africa. But there's also humility.
"They acknowledge there are many hurdles to overcome, but they're confident as well. They have the support from government and corporate society and they're on the right track," Poku remarked.
As South Africa endeavours to come good on its promise of ensuring 2010 becomes a truly African FIFA World Cup, Ghana will be an important partner in the process.
"The government of Ghana is determined to support South Africa in the 2010 process and is also looking to South Africa to support Ghana for 2008," the Minister went on to add. "The expertise is there in Africa. Many Africans have been exposed to challenges as they have all over the world.
"But this is the time to bring together all of Africa's expertise and to get stronger collectively. We've seen a complex mix of everyone coming together. They're challenging themselves and bringing out the best in themselves and we'll see the climax of their work in Ghana in 2008 and in South Africa in 2010.
"It's important that this event is a success. It's an opportunity for all of Africa and encouragement for our youth, whose interest in football is very passionate. It will open the way for many great things for us. This is the big one and it will come with all the expertise and sophistication required," Poku continued.
And sharing a common goal of changing skewed perceptions of Africa, the camaraderie between Ghana and South Africa is very much in evidence.
"There are challenges ahead and the media shows a keen interest in the progress, but they're not aware of the key planning going on in various boardrooms. I'm confident that with time the various strategies being put in place will come to fruition. On my own assessment the 2010 Organising Committee will deliver something the whole of Africa will be proud of," concluded Poku.