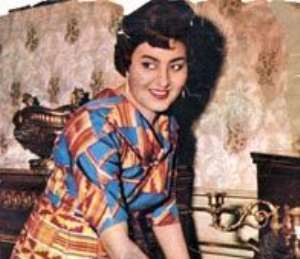 Wife of Ghana's founding president, Dr. Kwame Nkrumah will be buried today in Cairo, Egypt in accordance with the belief of the Greek Coptic Church which she attended.
Funeral service would also be held for her at the Coptic Cathedral in Cairo.
Madam Fathia Nkrumah died at a hospital in Cairo, Egypt where she has been on admission.
She was 75. The former first lady has been suffering from stroke since February this year.
Joy News has learnt that government had been in talks with the family to bring the body back home for a state burial.
But that has not been achieved. Government sources said a state funeral will be organized for her at a later date.
Her son, Sekou Nkrumah told Joy News his mother might have suffered some complications.
"It is sad in a way but at least we should celebrate her life…I was expecting the worst. At her age I believe all kinds of things take place in her body," he said.