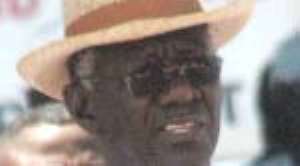 President John Agyekum Kufuor yesterday joined other national leaders from Burkina Faso, Tanzania, South Africa and many others to grace the swearing-in ceremony of Alhaji Umar Musa Yar'Adua as President of the Republic of Nigeria.
President Kufuor held a special position among his colleague national leaders during the occasion, because of his added hat of African Union (AU) Chairman.
The beautiful and historic ceremony took place at the Eagle Square, Abuja, where President Kufuor and his entourage, made up of Foreign Minister Nana Addo Dankwa Akufo-Addo, Ambassador D.K. Osei and Presidential Press Secretary, Andrew Awuni watched the unfolding event.
The highlight of the ceremony was the oath of office by the former Katsina State Governor in front of the Chief Justice of the federation.
"I Umar Musa Yar'Adua do solemnly swear that I would be faithful and loyal and show true allegiance to the Federal Republic of Nigeria", were the words which bestowed power to the man who won elections on the ticket of the People's Democratic Party (PDP) last month.
Yar'Adua then proceeded to watch a guard of honour mounted by a detachment of the Nigerian Armed Forces in their Number One Service Drill as an enthusiastic crowd applauded.
It was significant to hear the MC declare that "history was being made" as the proceedings unfolded.
The elections, which generated copious heat when they were held, had finally been confined to the dustbin of history and Nigeria as an entity had come out of it all unscathed.
For skeptics, yesterday's ceremony was not going to take place at all, given the controversy which characterized the polls and the contestations thereafter.
The new President appeared set to employ diplomacy in running the presidency as evidenced from his pre-inauguration call on President Kufuor, the AU Chairman, a few days before yesterday.
President Kufuor's appearance at Nigeria's historic event was the last leg of his four-nation tour which took him to Belgium, Egypt, and Ethiopia, during which he engaged in very important discussions with his counterparts.