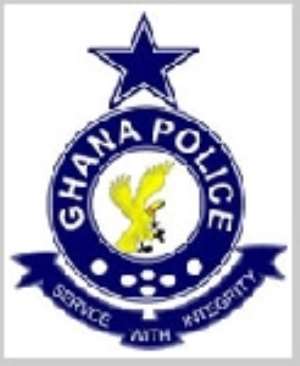 One of the three policemen alleged to have aided Sheriff Asem Dake, a prime suspect in the disappearance of 76 parcels of cocaine from MV Benjamin, on Tuesday denied taking money from Dake to purchase a car after allegedly allowing him to cart the drugs to an unknown destination.
Opening his defence, General Sergeant David Nyarko told the Accra Fast Track High Court that he did not know Asem Dake and had never met him.
General Sergeant Nyarko said although he bought an Opel Astra taxi with registration number GT 1640 X worth 40 million cedis, he, his sister and a friend raised the money to buy it.
According to him some of the money accrued from his late father Social Security and National and Insurance Trust pension benefits.
The rest of the accused persons are Detective Lance Corporal Dwamena Yabson and General Lance Corporal Peter Bondorin.
Nyarko, Yabson and Bondorin are being held on charges of prohibited business and corruption by public officer.
They have pleaded not guilty.A fourth policeman, Detective Sergeant Samuel Amoah, is on the run. He jumped bail after an Accra Regional Tribunal granted him and his accomplices bail.
GS Nyarko who was led by his counsel, Mr Musah Ahmed told the court that he paid for the car, which was originally owned by Mrs Rebecca Ama Essel, in instalments. The car was purchased on July 23, 2006.
Accused denied receiving bribe from Dake to allow him to cart the 76 missing parcels of cocaine.
GS Nyarko refuted allegations that he promoted an enterprise relating narcotic drugs by aiding Dake to cart the parcels of cocaine, adding that he had never seen any white van carrying 76 parcels of cocaine.
Accused, who had worked for the Police Service for the past 20 years told the court that he was stationed at Tema Newtown and attached to Dangbe Rural Bank.
He denied knowing a white man known as "Killer" who allegedly drove a white Daewoo salon car with some parcels of cocaine on board.
He said on April 26, last year, he closed from work and submitted his AK 47 rifle to Tema Newtown Police at about 1750 hours.
He said a few minute later, DS Amoah now at large asked him to assist him in apprehending some suspects for stealing.
The accused said he therefore went for his rifle with 20 rounds of ammunition after registering with the Counter officer called Sergeant Ofosu.
GS Nyarko said he and Sergeant Amoah boarded
He said Sergeant Amoah told him that the fisherman was going to show them the suspects who were to be arrested at Kpone Beach.
GS Nyarko said Sergeant Amoah and two others began jogging and since he was suffering from his knee, he was left behind.
The accused said after making enquiries as to where he was, he saw a green taxi cab and found Sergeant Isaac Asante and DS Bondorin who told him that they were also hunting for some suspects believed to be involved in stealing.
Sergeant Amoah, however, informed them to change their route as the alleged suspects could change their route.
According the accused they all joined the taxi but on reaching a junction, Sergeant Asante said he was thirsty so he went to Kpone Police Barracks to drink water.
he accused said he and DS Bondorin also alighted because the taxi driver told them that it was time for him to go and pick his boss's children from school.
Five minutes after, a green Toyota Land Cruiser with Registration number GT 21 W drove by. It stopped 70 meters away and DS Amoah alighted and informed him that he did not see anyone at the Kpone beach.
The accused said when he enquired from DS Amoah about the Land Cruiser, he (Sergeant Amoah) told him that the occupant was a friend and that he was offering him a lift to Tema.
Later when he called Sergeant Amoah, he asked him to wait at Tema Community Five taxi rank.
The accused said Sergeant Amoah arrived in the company of friend whom he did not know and they all boarded a taxi to their barracks but on their way, Sergeant Amoah's friend alighted at AFGO Junction.
GS Nyarko said when they arrived at the Tema Newtown Police station, he submitted his rifle and 20 rounds of ammunitions.
Four months later, DS Nyarko said he and other policemen were arrested and put before the Regional Tribunal and later the fast Track High Court.
The three policemen are alleged to have allowed Asem Dake, alias Sheriff, to cart 76 parcels of cocaine from the MV Benjamin into two canoes at Kpone, near Tema.
The case of the prosecution is that on April 26, this year, MV Benjamin arrived on the high seas of Tema.
The vessel was carrying 77 parcels of cocaine imported by one Sheriff Asem Dake. Soon after the vessel arrived, the parcels of cocaine were offloaded unto two canoes, which sailed to Kpone Beach, near Tema.
Some fishermen, who spotted the canoes became suspicious and called the owner of the canoes. The owner of the canoes and others informed Sergeant Amoah who was stationed at Tema Newtown. He in turn mobilized the other accused persons and they proceeded to Kpone Beach.
At the beach, the accused persons looked on until Asem Dake offloaded the drugs into a four-wheel vehicle.
The accused persons then followed the vehicle to Tema where Dake gave them some money for which they failed to arrest himHearing continues on June 5.