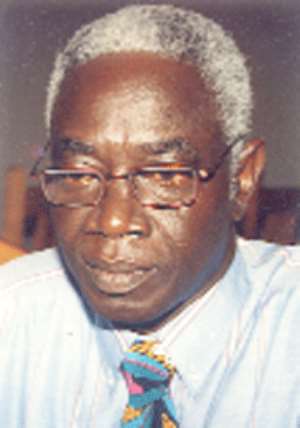 In 18 months or so, this nation will, hopefully, be agog with the celebration of another historic feat that will send nations trooping in to Ghana to find out how we anchored it so successfully when our mercurial neighbour, Nigeria, and distant cousin, Zimbabwe, drew incriminating flak from the international community by flunking it so badly.
It will be a forward throw of a familiar terrain in a virgin territory.
Doctors say that even if a woman has given birth nine times, her tenth pregnancy is still a new case and must be handled with all the emergency installations on alert.
There are situations in life where the best experience is only an academic exercise. Such is the present status of our nascent democracy. We have been there before but in this case it still gets newer even as it gets older.
There have been eruptive developments on our election landscape that ring off 2008 from all the others. The most dominating is the representation of the People's Amendment Act of 2006 that allows Ghanaians living abroad to imperatively participate in parliamentary and presidential elections for the first time.
Its passage was opposed by the opposition who argued that elections in the country have not been perfected for lack of logistics and resources, how do you then cast your vision beyond our shores and expect to do better there?
The proponents counter-argue that if the Diasporans pump in excess of one billion dollars into the economy every year, they deserve a say in how the country is being run, whatever the cost. It remains to be seen how the huge logistical outlay will be managed to absolve all parties of fraud.
Election 2008 will be a major historical event for the Danquah/Busia tradition. They have never successfully served a first term before let alone win a second one on the trot and now will be looking for an unprecedented third electoral victory. That will be a stand-alone achievement.
A challenge of this magnitude can generate its own destabilising vectors with a potential to derail all the calm nerves in the party. How can you be successful and not let it knock your head off its moorings?
All shades of opinion in the party will be pitching in for their slice of the booty. Managing success is more difficult than handling failure for the fact that remaining at the top, where it is easy to be weary or complacent with so many on your heels, is very difficult.
For the first time, the NDC, the only party that was formed out of Government, and that has been defeated twice on the trot, will be making its third bid for power with all its weight in dross.
In recent times, no party has galvanised so much negative emotions upon itself and still plods along without remorse. That baggage of human rights abuses, bad governance and the domineering, colossal and pervasive presence of Jerry Rawlings does not seem to have advanced their cause sufficiently.
The old leopard has not been able to change its spots, if anything, it has rather deepened them. It is therefore looking for power to right its wrongs and reverse its losses. It is like an angry and hungry wounded lion which will not spare any effort to devour its prey of Election 2008.
The NDC has experienced a shearing off from its ranks before in the form of the Reform Party which decisively lost the 2000 elections and immediately went to bed. It has spawned another rebel with a greater determination to upstage it on its home turf.
The Democratic Freedom Party (DFP) has definitely hit the ground running and its presence in the electoral roll is definitely going to change the chemistry of the event.
This party is a cobbling together of prominent NDC operatives who have been brutalised out of the party. None of them saw anything wrong with brutalities in politics until it was visited on them. Theirs is a uniformity generated by a motherly rejection.
The fire in the determination of the NDC to win back power is the same passion in almost the 30 NPP aspirants, most of them apprentices and adjutants of previous flag bearers, to win the flagbearership of their party.
It began with their antecedents as single digit figures compounding now to scores, all of them dallying with ¢3-5 billion to anchor their presidential ambition.
This new development is facilitated by the default of the opposition block to offer a credible alternative. I will vote for the NPP any day if a fractious and incoherent opposition is the only choice left.
All the contesting parties see the NPP winning again and are therefore positioning themselves to be the ones to breast the tape and claim the crown of glory.
If the invasive jostling can be successfully managed come December, it will open a new dimension into the elections with the sheer number of potential leaders.
Having been in power for two terms, the NPP also has acquired its own baggage for which it must be held accountable. Notable among them are the heart-rending revelations at the National Reconciliation Commission, the earth-shattering Haruna Esseku debacle that really threatened the security of the government, the May 9 Stadium Disaster, the abortive CNTCI loan, the frequent Cabinet reshuffles, the trials and tribulations of key NDC operatives and Nana Konadu Agyemang Rawlings and of course the rumpus involving Dr Richard Anane.
This latter saga leaves a discomfiting bitter after-taste as to whether legality takes pre-eminence over morality in public life. In my view, never mind how hard the bloke works, if he can go that far with the agent of a foreign power, he does not deserve to be on the executive.
We must brace ourselves for a different kind of ball game with Election 2008. It is never going to be like anything we have ever seen before with 18 months to go. And in politics 18 months can yield up a lot.
Election 2008 is not about some parties vying for political power. It is about the whole Ghana going for a test to prove our mettle.
Article by Oblitey Commey