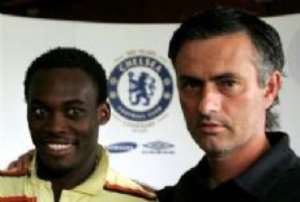 Chelsea's first humanitarian visit to Africa will see the 'Special One' Jose Mourinho lead his team to visit the special place of West Africa, Ghana on Today 29th May 2007.
The FA Cup holders and former English champions will begin their working visit on May 29 when they arrive in town to inspect projects run by their Global Charity Partner, Right to Play, an athlete-driven international humanitarian organization that uses sports and play as a tool for development of children and youth in the most disadvantaged areas on the globe.
Chelsea's travelling party which has eight team players and other staff members of the Stamford Bridge club also include Ghana midfielder, Michael Essien, who is an ambassador for Right To Play.
The delegation will be Accra and Tamale from May 29 to June 3 to visit projects run by the club's global charity partner.
The team's itinerary includes a media briefing on Wednesday May 30 to be followed by a coaching clinic at the El-Wak Stadium the same day.
The second part of the visit will see the team travel up North to Tamale on Thursday.
After the trip to Tamale, the Chelsea entourage will return to Accra to observe the Right to Play Day to be held at the Efua Sutherland Park on Saturday June 2.
The Blues in January 2006, agreed a 6-year partnership deal with Right to Play, making the humanitarian body the football club's first ever global charity partner.
The partnership aims to raise more than £2 million over the period to support Right to Play's extensive humanitarian activities in 22 countries in Asia, Africa and the Middle East.
Mourinho said: "Everyone at the club is fully behind the work of Right To Play and we are all proud to support them. I'm sure our relationship will benefit thousands of kids throughout the world, starting with this visit to Ghana.
"Sport, particularly football, has a certain power. It is a world language, something where cultural difference does not matter.
"If you are in London, Lisbon or Accra, if you put down two pieces of clothing for a goal and wrap some paper into a ball and start to kick it, everyone knows what you are doing, there is no need to explain it.
"Because it is the world language you can reach everybody and if you have a big status in the game you have a big responsibility to use that power properly.
"And what better way to use it than for kids around the world to be healthier, fitter, fight disease, war, poverty. Football can and should help with this. It also reminds you that there are more important things than football." Essien, who is one of the Chelsea/Right To Play ambassadors, added: "I'm sure our relationship will benefit thousands of kids throughout the world, starting with this visit to Ghana."
Mourinho and the other Chelsea technical staff will be conducting play sessions for children in Accra and Tamale.
He will also hold coaching demonstrations for the Right To Play coaches who are integral to the charity's purpose of raising awareness about disease, war and poverty through sport.
The trip has a dual role for Chelsea. As well as being a major initiative in the club's Corporate Social Responsibility Programme, it also serves as part of our young players' education in what is expected of them as first team players of the future.
And certainly the Jose Mourinho would be seeing some real special talents when he gets down to do some brief work with the kids.