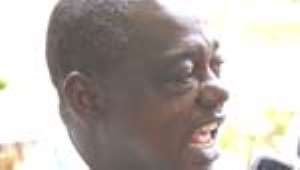 •As Dery Goes Wild
After suffering defeat at the hands of the Member of Parliament (MP) for Lawra/Nandom, Dr. Benjamin Kumbuor, in the 2004 parliamentary elections, the Upper West Regional Minister, Ambrose P. Dery has gone wild, setting the stage for a re-match of the electoral duel.
Mr Dery, a former deputy Attorney General, promised to match the MP "boot for boot" to exact a revenge.
The minister, who filed his nomination unopposed at the close of nominations last month, said he was all out this time to win the seat, irrespective of the cheap propaganda the opposition members would resort to.
"Though I lost in the last polls, I don't think my friend Kumbuor or any candidate from the camp of NDC can defeat me this time round".
He disclosed that after a careful analysis of the situation on the ground, he had found out that his constituents needed his services in Parliament, following the NDC MP's disappointing performance over the years.
The Upper West Regional Minister, who was speaking to DAILY GUIDE, noted that the Kufuor-led New Patriotic Party (NPP) administration had embarked on development projects in all regions of the country and it was time the people reciprocated the gesture of Government by voting for him and the NPP to enable several other development projects spring up in the Lawra constituency and the Upper West region in general.
He commended the electorate for voting the NPP into power in the 2004 elections, adding he was hopeful that in the 2008 elections, the Lawra seat would be occupied by an NPP candidate "in the person of Ambrose Dery".
In a related development, youth from different political backgrounds in the area have formed several fan clubs in honour of the Minister.
These youth were eagerly preparing the grounds for the regional minister to win the Parliamentary seat.
This development, according to Ambrose Dery, had boosted his morale.
He stressed the NPP government within the last six years had come up with diverse development interventions to meet the aspirations of the people.
Known as an "icon of development" in the region, Mr. Dery promised to adequately represent his people and constantly be in touch with them to address their concerns.
The regional minister predicted a landslide win over whoever would compete with him, arguing, "He who falls and refuses to rise and re-strategize is a real failure and a loser".
He pointed out that he learnt several lessons in 2004, and that nothing would stand in his way this time round.