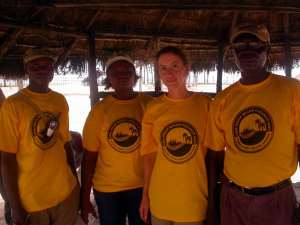 Karyn and I recently returned to the United States after spending ten months in Ghana (click on this link to download an article about our project: http://www.ohio.edu/ohiotoday/print/spring2007.cfm ) . We would like to thank everyone that supported our work through your visits, your t-shirt or adoption night purchases, as well as the many emails of support you sent. We also had a lot of support from our new friends in Ghana. Just before leaving, I was happy to hand over my spotting scope (and tripod) to Zachariah Warreh. He works with the Ghana Wildlife Division in Mole National Park and is what I believe to be the best birdwatcher (and guide) in all of Ghana. During our visit to Mole in January, he told me that he was trying to save his money to buy a spotting scope. Another person I have a lot of respect for is our great friend Joe. He is officially the driver for the senior wildlife officer in Ada Foah. In practice, he is so much more. He took great care of us and always helped us handle any problem, big or small. He, like Zach, seem to be motivated by their strong interest in helping people and protecting wildlife. Whether or not the money is there, they always seem to find a way to get the job done. We were happy to give Joe Karyn's bicycle (for his daughter) as well as my leatherman tool, a watch, and many other small items. Our next-door neighbor, and a wildlife officer, Seidu really took an interest in birdwatching (especially during the last few weeks). We gave him a pair of binoculars and a book on Africa's birds. We challenged him to learn the birds and be ready for a small quiz when I return in November 2007. The Ghana Wildlife Society was given the ATV motorbike to help with their sea turtle survey efforts in Ghana. The GWS surveys several beaches in Ghana and has an 'army' of over 100 volunteers that walk the beach looking for nesting turtles. We hope the bike will help them increase their survey efforts. We also hope the GWS and World Wildlife Fund will work closely with the Ghana Wildlife Division office in Ada Foah to finally put an end to the poaching activity and to increase the ecotourism and public education in the area. We gave the University of Ghana a large amount of research equipment (field scales, calipers, notebooks, etc…) and many biology books. The books are being used to develop a library for the Department of Fisheries and Oceanography. The gift giving was not one-way. Karyn and I would like to thank AK Armah (University) and Dickson Ajeman (Wildlife Division) for their fine gifts given to us just before leaving.
I am happy to announce that HATCH will continue next year. The Department of Fisheries and Oceanography at the University of Ghana is securing the HATCH house for the next ten years. The department will use the house as a research station that provides housing for students to conduct research on many coastal issues that include sea turtle conservation, manatee ecology, and coastal shoreline restoration. I will return to Ghana in November to help students survey the beach for nesting turtles. The students will learn to tag and properly measure turtles. For now, I am going to look at establishing HATCH as an official non-profit and work on getting funds to pay room/board for two American interns to spend the 2007-2008 sea turtle nesting season in Ada Foah to assist the Ghanaian students in the tagging efforts. Details on this will be posted on the webpage soon.
Karyn and I are now in the United States and are really enjoying the pizzas and fresh vegetables that were difficult to find in Ghana. We are slowly adjusting to life in the United States and will be moving to Florida in only a few days. I hope to build a new webpage for HATCH that will include information about traveling to Ghana as well as information on sea turtles and sea turtle opportunities in Africa. Until that happens, I have uploaded to our webpage 100 of our favorite photos from the year in Ghana. I hope you will take the time to look through all of them. Those that have visited Ghana know what a special place it is. For those that have not, I hope the photos will motivate you to visit Ghana….a country that provides a very rewarding, but challenging, experience.