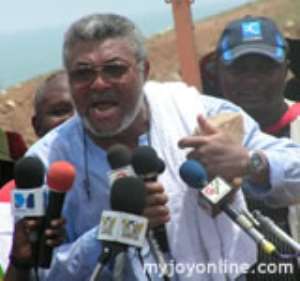 Former President J.J. Rawlings has said the New Patriotic Party (NPP) government's decision to antagonize the 31st DWM is a big mistake.
According to him, government would have made a much greater progress if it had adopted the Movement his wife founded because it has served as the backbone of development in the country.
Former President Rawlings was addressing the 25th anniversary of the Movement and inauguration of a new branch in Madina in Accra.
"Since President Kufuor came into office the world is not unaware of the extent of prosecution going on. Because we know the backbone of the country. I didn't say the backbone of the NDC... Kufuor should have adopted the 31st DWM as his own and would have made progress," he said.
He added: "But unfortunately that man is short-sighted he rather sacrificed breaking the backbone."
The flagbearer of the NDC, Professor John Evans Atta Mills commended the Movement for its massive developmental projects across the country. He assured the movement that his government would correct every wrong done against them by the current Kufuor led administration.
"The 31st DWM should feel proud of their achievements. Indeed it is a matter of deep regret that their efforts are being thwarted because of their suspected political affiliation. A time is going to come…very soon when the people of Ghana are going to besiege the 31st DWM offices to continue the work that they have done," he promised.
The Founder and President of the Movement, Nana Konadu thanked the women for their massive support despite government's attempts to thwart their efforts.
She reiterated her position that properties and funds the Movement used for development were legally and properly solicited.
Present at the ceremony were NDC Chairman, Dr Kwabena Adjei, National Organiser, Samuel Ofosu-Ampofo, Dr Mary Grant, former running mate, Alhaji Mohammed Mumuni and other party dignitaries and other party dignitaries and NDC Members of Parliament.