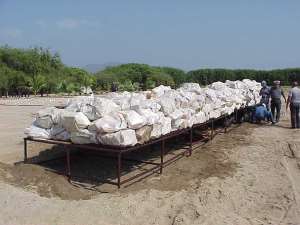 AN ACCRA Fast Track High Court yesterday refused an ex-parte application to order the relocation of the MV Benjamin Vessel, which brought 77 parcels of cocaine into the country some few years ago to a safe place to avoid the danger of damage or sinking.
The application, which was made by Mr. William Kpobi, Principal State Attorney stated that the Ghana Ports and harbour Authority had failed to relocate it.
The Fast Track High Court, chaired by Mr. Justice Anim Yeboah asked in its ruling why he should make such an order while the vessel has not been tendered in exhibit in the case.
He noted that if in the cause of the matter it is tendered in evidence as an exhibit, then he would be obliged to make such an order.
He noted that he was not inclined to grant the application therefore refused it.
The application was made at the trial of the six men in relation to the 77 parcels of cocaine sailed into the country with the MV Benjamin and the immediately the application was refused, Mr. Kpobi called in a prosecution witness, Mr. Enoch Quaye, a Company Inspector to give evidence.
According to Mr. Quaye, as a Company Inspector with 23 years experience, he is in charge of seeing to it that companies file their annual returns.
Responding to questions on the Company Atico Fisheries Company Ltd, witness informed the court that it was incorporated in November 2002 with its Managing Director being Sheriff Asem Darkey.
He further mentioned the Directors of the company as Nene Sheriff Asem Darkey, Keun Jo-Lee and John Wakefield after he had tendered in evidence a certificate of incorporation to the court as exhibit.
He informed the court further that the company had not made its annual returns to the Registrar Generals Department since its incorporation.
Mr. Quaye also informed the court that he knew of Dashment Company Ltd incorporated in 1993 with its Directors being Joseph Kojo Dawson and John Kwabena Dawson.
According to witness, Dashment Company Ltd was incorporated to engage in deep-sea fishing and exportation of fish processing has its shareholders of being John Kwabena Dawson, Joseph Kojo Dawson and Jonathan Klutse.
He indicated to the court that between the years 1994 and 1998, the company filed unedited account.
During cross-examination by Mr. D. K. Amerley, counsel for Joseph Kojo Dawson, witness admitted being a worker at the Inspectorate Department of the Registrar Generals Department but did not inspect Dashment Company Ltd. as an officer.
He said he could not state whether the company is viable or not.
The court adjourned to May 28, 2007 for continuation.
Story by Florence Gbolu