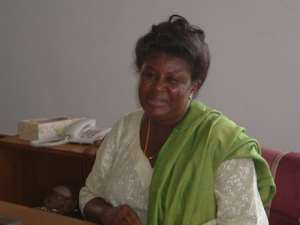 The First Lady, Mrs. Theresa Kufuor on Thursday appealed to Persons Living with HIV/AIDS (PLWHAs) not to indulge in self-stigmatization, but rather own up and help in the education to fight against the infection.
She said stigma fuelled the spread of the virus but, "when PLWHAs open up about it, it reduces the feat element and this will help in our fight against HIV/AIDS".
Mrs. Kufuor, who is also the founder of the Mother and Child Community Development Foundation, made the appeal at an HIV/AIDS awareness programme at Madina Zongo near Accra.
The programme, which was organized by the Foundation in collaboration with the Ghana AIDS Commission under the theme; "Stigma Reduction begins with You" was attended by the Moslem community and the junior and senior secondary schools in the area.
Mrs. Kufuor noted that stigma discouraged people from seeking early treatment adding, "When stigma stops, people will open up about their condition and seek help".
She expressed concern about the recent Sentinel Survey report, which indicated that the HIV/AIDS prevalence rate had increased from 2.7 per cent to 3.2 per cent in 2006 with new infection rate being more prevalent among the 15 to 24 year group.
She said the young, who had been described as the future leaders were rather being infected, then, "what will become of this nation in the next 20 years? There is therefore the need to protect them from being infected and also spread the virus".
The first Lady suggested that to effectively combat the pandemic, there was the need for all to join in the fight by protecting themselves, showing love and giving support to PLWHAs, adding, "reducing stigma begins with you".
Mr Kofi Allotey, Ga East District Chief Executive described stigmatizing and discriminating against PLWHAs as a risky behaviour that was contributing to the spread of the infection.
He called on various organisations to join in the fight and support the campaign to ensure its sustainability in achieving the objectives of the national Strategic Framework on HIV/AIDS.
Nii Afutu Brempong III, Chief of Damfa, who presided called on the youth not to indulge in any immoral behaviour to get themselves infected with the virus as it was no respecter of persons.