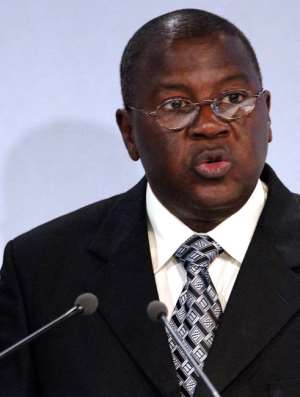 The Greater Accra Regional NPP Chairman, Sammy Crabbe, has been reported by the Gye Nyame Concord newspaper as saying that the continuous silence of the Vice President, Alhaji Aliu Mahama over his presidential ambitions was greatly affecting his progress in the race to succeed President Kufuor.
According to Mr Crabbe, the greatest problem confronting the Vice President is his muteness over his rumored presidential intentions describing it as "not golden".
"Why will he still be keeping mute over his presidential succession bid after all the noise and tension the presidential succession race has generated?", he quibbled.
Sammy Crabbe said this in an interview to discuss the NPP Presidential flagbearership race and its ramifications on the party's future.
He said if he were to be the Vice President, he would make his intentions clear to all and sundry since Alhaji Aliu's silence was generating too much heat in the party's body politic.
He said there was no denying the fact that the Vice President would contest the NPP's presidential flagbearership slot, which he said was within the Veep's rights so to do, wondering why the Vice President was refusing to announce it.
He continued "irrespective of what anybody can say, irrespective of what anybody wants us to believe, the reality on the ground is that the vice president will try his luck on the presidency, that's the reality, and it is his inalienable right to do so if he so wishes".
On the various factions in the party in an apparent reference to the numerous groupings supporting most of the presidential aspirants, the Greater Accra Chairman cautiously expressed optimism that it would not create any kind of divisions in the ruling party.
He said with the UNC-PFP experience on hand, the party was going to ensure that history did not repeat itself.
Source: Gye Nyame Concord