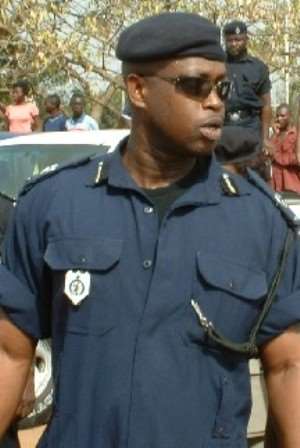 A Senior Lecturer of the Department of Linguistics, University of Ghana, Dr Kofi Agyekum, has told an Accra Fast Track High Court that the recorded conversation on the controversial ACP Kofi Boakye's tape was a natural one.
"My Lord the tape recording had not been tempered with," Dr. Agyekum, the eleventh prosecution witness, told the court trying Kwabena Amaning aka Tagor and Alhaji Issa Abass, alleged self-confessed drug barons, held for drug-related offence.
Dr Agyekum, also a specialist in the Akan language, said that his work was to find the authenticity of the recording, voice attribution, profile of the voices and transcription and translation from Twi to English.
Led in evidence by Mr Agyemang Duodu, Principal State Attorney, Dr Agyekum said he was approached by the Attorney General to work with J. P. French and Associates in York, London.
He said he visited London on two occasions and worked with J. P. French and Associates and later communicated on e-mail with the firm.
Dr Agyekum said as an expert, he worked independently adding, "I worked without showing partially."
Highlighting the report he produced, Dr Agyekum said Abass, whom he explained as non-Akan speaking person, was intermittently mixing Twi with Fanti, adding that the other four participants used the correct version of the Akan language.
Answering questions under cross-examination by Mr Ellis Owusu-Forjour, counsel for Tagor, Dr Agyekum said before his appointment to work on the recorded conversation, he could not remember commenting on the case.
Dr Agyekum, who is also a social commentator, admitted that he did a literal translation on the recorded conversation.
He said he only read about the arrest of the accused persons in the dailies.
Answering questions by Mr Osafo Buabeng, counsel for Abbas, Dr Agyekum said he could not remember saying damaging things about the accused persons.
He admitted that words like "goods" and "things" could be used interchangeably depending on the context.
Dr Agyekum denied that his report was to suit the Attorney General adding, "As an independent expert I was very objective and impartial."
Meanwhile, the court has warned two relations of Abass for harassing and verbally assaulting a policeman whom the court directed to take away newspaper, which they were reading in court.
The court asked persons to comport themselves and give respect to the Judiciary if they want to continue attending court proceedings.
"Next time, I will deal ruthlessly if anyone who flouts the orders of the court," the court warned.
The case of the prosecution is that the accused are self-confessed drug barons who since 2004 had been actively engaged in activities of promoting and establishing various enterprises relating to narcotic drugs.
Tagor has additionally been charged with carrying out prohibited business relating to narcotic drugs, buying and supplying of narcotic drugs, while Abass is being held for carrying out prohibited business relating to narcotic drugs and supplying narcotic drugs.
They have pleaded not guilty before the court, presided over by Mr Justice Jones Dotse. They have been remanded in custody.
Hearing continues on May 30.
Source: GNA