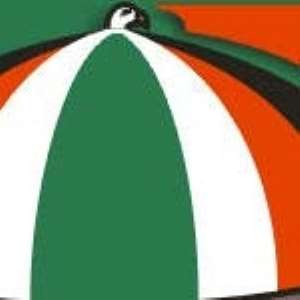 The Obuasi constituency of the National Democratic congress (NDC) has vowed to win back the parliamentary seat from the New Patriotic Party (NPP) in the 2008 elections.

"The party wishes to state emphatically that the Obuasi parliamentary seat is surely going to change hands to its rightful owners, the NDC come 2008 elections".

A press release signed by Mr. Paul Raymond Kwofie, the Party's Communication Chairman for the constituency, said the actions and inactions of the NPP followers in Obuasi including the Municipal Chief Executive (MCE) and the Member of Parliament suggested clearly that they are all campaigning for the NDC to win the seat.

The statement said the NDC during the tenure of Mr. Kwame Degraft Agyei as the District Chief Executive brought real development to the Obuasi constituency, and that, "The numerous stores and stalls scattered all over the central business area, the asphalting of a stretch of road in Obuasi and many other projects are visible monuments".

Referring to a recent newspapers publication to the effect that the NPP had undertaken more projects in the Obuasi area, the Party said, "It is rather unfortunate that the Obuasi NPP have easily forgotten, because of their political wickedness, that the Obuasi Government Hospital was initiated, built and developed to its present stage during the time of the NDC".

The release said if after seven years in office, the NPP was now constructing a mortuary, "it is nothing worth mentioning, except to score cheap political marks".

It said the NDC was aware of the numerous tricks, propaganda and the ploy the NPP was using to sow seeds of discord and acrimony within the NDC with the sole aim of winning the 2008 elections.

The release said for example that any serious-minded person would know that the alleged assassination plot on the life of Haruna Iddrisu, an MP by the NDC was an advanced form of political propaganda.

It urged the party supporters and "the numerous in-coming defectors from the NPP" to stand firm, resolute and united since Professor John Evans Atta Mills, the Flag bearer was sure to lead the party to victory in 2008.

It added that the NDC was focused and that the Party gurus had started visiting the constituencies to motivate their members.

"Since the Obuasi NPP is afraid of such visits, we are informing them to expect more in the coming weeks".