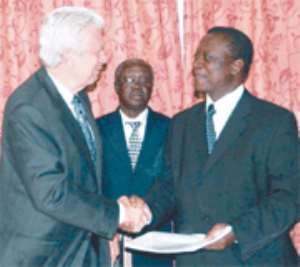 The high cost involved in putting up buildings could be significantly reduced with the signing of an agreement between the Council for Scientific and Industrial Research (CSIR) and the Plastics Manufacturing Company (PMC) Global, an American multi-national company, for the manufacture of pozzolana in Ghana.
Pozzolana is a cementatious material derived from clay and mixed with palm kernel additives. It cannot be used on its own to construct houses and has to be mixed with cement.
According to scientists, instead of using three bags of cement, for example, in preparing concrete, one could use two bags of cement and one bag of pozzolana to achieve the same level of effectiveness.
The type of clay used in the manufacture of pozzolana is said to be in abundance in the country. Research into the possibility of using clay found in Ghana to manufacture pozzolana was done by the CSIR.
Manufacturing of the product is expected to provide jobs, income for raw material producers, affordable housing for the population, and reduced government expenditure in the provision of schools and other infrastructure.
The first manufacturing plant, which will cost $2 million, is to be established in Prampram in the Greater Accra Region within the next eight months while two others to be sited in the middle belt and the one in the northern sector of the country will be established later.
Research into the possibility of using clay found in Ghana to manufacture pozzolana was done by the CSIR.
Director-General of the CSIR, Prof. Emmanuel Owusu-Bennoah, signed on behalf of the council while Mr Steve Cohen of PMC Global initialled for his company.
Prof. Owusu-Bennoah said the agreement was a clear example of the strategically important contribution research and development in general and the CSIR in particular could make to the nation's development efforts.
He said the CSIR had other equally important and strategic technologies on offer, such as the technology for producing activated carbon.
Activated carbon, he said, was a crucial input in the mining, food and beverage industries, adding that huge sums of foreign exchange were expended on its import by those industries.
Mr Cohen said PMC Global was glad to be part of efforts to provide affordable housing in Ghana by using local Ghanaian products as an additive in the attainment of the goal.
He said the company had engaged in similar ventures in the United Kingdom (UK), France, Belgium, China and India and added that the intended project in Ghana would be the company's first in Africa.
The Minister of Education, Science and Sports, Papa Owusu-Ankomah, hailed the CSIR for its efforts to attract foreign investors to help bring products for which research was conducted in Ghana "to the marketplace".
He said the CSIR had the potential to fulfil such a role and be a force in creating appropriate technology for Africa, if not for the rest of the developing world, adding: "In this light, today's signing is the proverbial first step in a journey of a thousand miles."
Story by Mark-Anthony Vinorkor