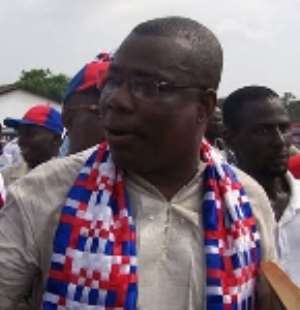 To ROPAL or not to ROPAL: that is the question. Since the passage of the Representation of the People (Amendment) Bill – a.k.a. ROPAB, last year, the question of whether it can or should be implemented in Election 2008 has been tickling the country's political establishment.
In fact, some leaders of the National Democratic Congress (NDC) have gone on record to declare that they would reject outright the results of Election'08, should it include any inputs from Ghana's Diaspora.
Some senior members of the New Patriotic Party have of late also been calling on the Electoral Commission (EC) to implement the law. The Chairman of the EC, Dr. Afari Gyan, in a recent interview with the ADM signaled his displeasure with the way the politicians are going about things. "It is not healthy", he told ADM, "for anybody to be speculating as to whether it is possible or not."
Last weekend, Mr. Peter Mac Manu, National Chairman of the New Patriotic Party waded in with reassurances. He said his party was not maneuvering to gain from the implementation of the Representation of People Amendment Law (ROPAL).
Speaking to the media at a workshop for constituency executives and district chief executives in the Western Region at Takoradi, Mr. Mac Manu said the NPP did not have a hand in the implementation of the ROPAL by the Electoral Commission (EC).
He said the final decision on whether it would be feasible to implement ROPAL in the 2008 election rested with the EC.
He said the NPP was law-abiding and would accept the decision of the EC on ROPAL and the EC could delay the implementation of the law until the appropriate time.
Mr. Mac Manu accused the National Democratic Congress (NDC) of playing a double game. The NDC, he declared, was taking the country for a ride because it had opened offices in Togo and Cote d'Ivoire even while opposing ROPAL. The inference is of course clear: the NDC is putting structures in place in anticipation of ROPAL while at the same time trying to sabotage it..
Mr. Lord Commey, National Organizer of the NPP, said the NDC, as the leading opposition party did not have a case in walking out of a recent EC consultative stakeholders meeting on the ROPAL.
He said it did not make sense for the NDC to approach democracy that way; such attitudes, he said could destroy the country's democratic process.
Should enfranchising Ghanaians abroad be a source of conflict? The NDC thinks so; the NPP thinks not; the EC says leave us alone to do our job!