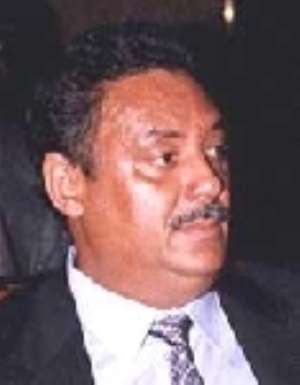 "Without vision, you have no roadmap, no direction; without passion, you will not have the fuel to get there," Jake Obetsebi-Lamptey, Tourism Minister and presidential aspirant of the New Patriotic Party said at Friday's maiden Ferdinand O Ayim Memorial Lectures held at the British Council auditorium, Accra.
Giving several examples of leadership, he criticised Ghana's first president for "bankrupting" Ghana with his "castle-in-the-sky plans."
Friday's programme, in memory of Ferdinand Ayim, the journalist-cum-politician who died in a road accident a year ago, featured two other presidential aspirants, Hackman Owusu-Agyemang as chairman and Yaw Osafo-Maafo, who led the auction of 'I Shall Return', a compilation of some of the late Freddie's literal works, which was launched in the evening.
It was not exactly the kind of debate the former Education Minister, Osafo-Maafo, has been calling for but all three presidential aspirants at the event spoke to some degree of leadership, with particular reference to the patriotism and leadership exhibited by their late mutual friend, Freddie.
Delivering his speech on Patriotism and Leadership, the son of Obetsebi-Lamptey of Big Six fame who died after being detained under Kwame Nkrumah's Preventive Detention Act, did not spare Ghana's first president, Mr Nkrumah, in pointing out what not to do as a leader and a patriot.
He described Mr Nkrumah (or Dr Nkrumah as he ensured he was addressed) as miserably failing in giving to Ghanaians the kind of freedom and humanity he was advocating for the African continent.
"We as a country," Jake said, "suffered from Kwame Nkrumah's concept of patriotism - his inspirational vision for the continent, for a United States of Africa and a pan-African movement, failing to translate into the same kind of humanity-embracing policies back home," Jake said.
Jake made reference to the PDA, "Nkrumah's critics were imprisoned without charge; as freedoms of speech were gradually eroded, Nkrumah took away that platform of opportunity which he had given to the continent's leaders.
Indeed, in many ways his leadership of the country was inconsistent with his vision for the continent; and it is telling that whilst still revered for his African-wide leadership, Nkrumah's stint as our first president is often painted as one of misguided policies and undemocratic rule."
The Tourism Minister and a true blue Danquah-Busiast told his audience that, though a visionary, Nkrumah was not much of a realist. "Nkrumah was impatient, he was impassioned, and he was certainly charismatic – he was a man of ideas and a man of action, although his castle-in-the-sky plans sometimes bore little resemblance to the realistic financial capacity of the country, and left Ghana virtually bankrupt at the end of his nine-year rule."
In talking of great leaders, nevertheless, Ghana should certainly be proud of Nkrumah, Jake said, taking note of the CPP founder's conviction that Africans need not accept their "lot in a world order pushing us to the bottom; that we must stand together to resist the white man's rule," Jake acknowledged.
"For Ghana, however, Nkrumah's vision floundered – where on a continent-wide level he preached unity and togetherness, in Ghana his leadership style drew less from this respect for humanity, with our first president becoming increasingly dictatorial in his reign.
Whilst Africans respected Kwame Nkrumah for the voice he had given to the continent, the international stage onto which they were suddenly able to leap and demand their independence, in Ghana he took away those same speaking rights."
Chairman for the lectures, Hackman Owusu-Agyemang remembered Freddie as his friend and speechwriter who put together for him the best speeches, according to critics.
He recalled with some humour how Jake used his weight and size to win in a contest to get Freddie as his special assistant. Mr Osafo-Maafo also revealed how he lost out in that contest, too.
Mr Osafo-Maafo described Freddie as a passionate man who cared deeply about this country's development.
He recalled a meeting he had with Freddie before he set off to travel to that fatal accident. It was about how to ensure the mining of the Kyebi bauxite would not leave behind a community poorer and an environment highly degraded such as Akwatia, after the diamonds have been mined.
Elizabeth Ohene, Ministe of State, remembered Freddie as the man through whom the NPP's message was put out to the public in the last six months of the 2000 elections. "He made sure our message was put out there."
The auction of the first series of I Shall Return was very successful. Kwame Bamfo the entrepreneur and philanthropist bought a copy of the book for 25 million cedis. About 100 million cedis was raised on the night, with Edward Boateng of Global Media Alliance, Charles Nimako of Pepsi, Osafo-Maafo and Owusu-Agyemang paying 10 million cedis each for a copy.
All contributions will go towards the Foundation, O B Amoah, a trustee, who contributed 5 million cedis, explained. Jake, in his speech, urged all to contribute towards the Foundation and thanked those who already have.