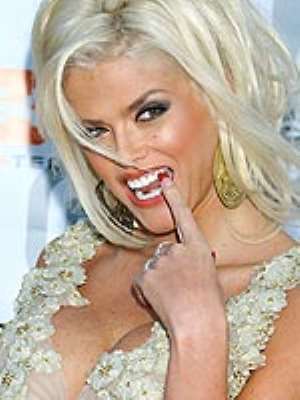 LOS ANGELES -- "Don't Read!! Personall," warns the diary's inside cover. But its author, Anna Nicole Smith, has no hold in death on the remnants of her life.
The public now can discover that she was delighted by rough sex, ecstatic over the prospect of plastic surgery for her breasts, and fearful of a jealous boyfriend. She was careless with spelling, punctuation, and, too often, with her own well-being.
Complaining about her then-lover's carousing, Smith writes that she'll break it off with him if he doesn't stop. Then she amends her stand, according to new diary excerpts released exclusively to The Associated Press.
"We discussed it and he said he wouldn't go out and get drunk no more unless it was with me," Smith wrote in the diaries, which span about a year from early 1991 to 1992.
On an evening out a few weeks later with the same man (identified only by first name), Smith wrote that she got drunk and "asked a guy for his #."
Her boyfriend "came unglued. threw me out of his house & broke up with me it was awlful he hit me and my mother," she said.
The model and former Playboy Playmate, who was born Vickie Lynn Smith, was found dead on Feb. 8 in Hollywood, Fla., of a toxic mix of prescription drugs.
Copies of 60 diary pages were provided to the AP by Universal Rarities, a Corona-based auction house. The diaries were purchased from a memorabilia shop by a group of investors, who sold two of them to a German businessman for more than $500,000.
Those diaries were from 1992 and 1994 and included references to elderly Texas oil tycoon J. Howard Marshall II, whom Smith married in 1994 and who died the next year.
The newly released handwritten diary pages are from a different diary and will be posted online at urauctions.com, said Thomas Riccio, a partner in Universal Rarities.
Smith's tone in the entries veers between simple joy and deep-seated unhappiness.
One entry begins, "I'm a very sad person," and is illustrated by a weeping face.
Smith goes on to write that "my mom hates me so much. She is so jealous of me. ... I love my mom but I cant handle it anymore."
She posts intimate details of an active sex life in often-graphic language. She rails against her boyfriend and, in the same scrawled entry, celebrates her upcoming breast surgery.
"I'm so excited I could scream. Ahhhhh I just feel so happy," Smith writes, although she later expresses worry about the imminent operation and how she'll look.
One of the more poignant passages deals with her shock at finding she's pregnant.
"I'm so scared! How can this happen to me," she writes, adding that her boyfriend "will hate me. he don't want kid. Can't do it!"
She underlined the last phrase.
Smith later had two children. Son Daniel died last September at age 20 of a lethal combination of drugs, three days after Smith gave birth to a daughter, Dannielynn. Larry Birkhead was found to be the baby's father.
Four months after she died of an accidental drug overdose, Anna Nicole Smith's six-year-old will was filed Monday by her attorney and companion Howard K. Stern.
The document leaves assets estimated at $710,000 to Smith's now-deceased son, Daniel, and also gives Stern custody of Daniel, who was a minor in 2001, when the will was written.
In a probate petition signed May 7 by Stern, he asked a judge to recognize the document as Smith's last will and him as its main executor. The petition also names Smith's 8-month-old daughter, Dannielynn, as her survivor, and Larry Birkhead as the infant's father.
Daniel was 20 when he died in September in the Bahamas from a lethal combination of drugs, days after Smith gave birth to Dannielynn. The girl was briefly thought to be fathered by Stern before paternity tests showed the father was Birkhead.
The probate proceeding to sort out Smith's assets, debts and taxes will lead to the establishment of a trust with Dannielynn as its sole beneficiary, said Stern's attorney Bruce S. Ross.
With the trust, the girl could inherit the estate of Smith's late husband, Texas oil tycoon J. Howard Marshall II, estimated to be worth $500 million.
Birkhead also filed papers Monday to ask a judge to appoint him as guardian of Dannielynn's estate.
"As the child's father and caregiver, (Birkhead) is in the best position to protect and safeguard the interests of his child as guardian of her estate, including her interests in the estate of her deceased mother," the petition said.
A June 19 hearing was scheduled to hear both petitions.
Smith was 39 when she died Feb. 8 in Florida from a mix of prescription drugs.