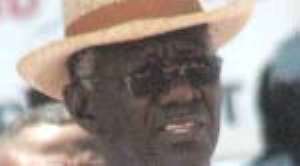 PRESIDENT John Agyekum Kufuor has cautioned that the Freedom of Information Law could prove to be very expensive if not well managed. Government, he said, would therefore ensure adequate ground work takes place before its passage.
The Attorney-General's department, he said, was working out a time-table the Government needed to get the law ready.
President Kufuor said these on Wednesday when an 11-member delegation to the 41st Ordinary Session of the African Commission on Human and People's Rights called on him at the Castle, Osu.
The delegation, made up of Human Rights Commissioners of the African Union (AU), representatives of Non-Governmental and Civil Society Organisations and a Minister of Justice, is in Accra to deliberate on human rights issues confronting the continent.
President Kufuor said Government was determined to put in place the necessary institutions and laws to protect the rights of the people, citing the Domestic Violence Law and the repeal of the offensive Criminal Libel Law.
He stated that without respect for human rights, governance cannot be said to be good and this could deny the continent access to investments.
The Chairman of the AU said a liberated Africa must uphold people's rights, which is the basis of democracy.
He noted that with the opening of the world, it was important for the commission to deepen African Societies' awareness of the dangers that could arise out of the pursuit of sectional rights.
"The violation of the rights of minority groups has been the major cause of most of the frictions and conflicts on the continent" and noted setbacks must be avoided.
The Chairperson of the Commission and Leader of the delegation, Mrs Salamatta Sawadogo, commended President Kufuor for his keen interest in the work of the Commission, adding, "We knew we could depend on your support to implement the mandate of the Commission."
She said the decision to hold the session in Accra was the Commission's desire to share with Ghana the joy of its 50 years of political independence.