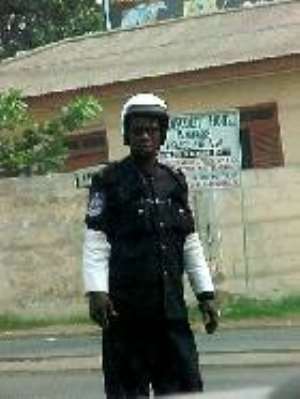 The Police Administration has interdicted two police officers in the Brong Ahafo Region in connection with an alleged bribery scandal in a cocaine deal.
Deputy Superintendent of Police T.K Tindow, Wenchi Divisional Police Commander and Inspector J.K Tandoh, an investigator allegedly collected about 15 million cedis from a pastor who was arrested with a quantity of a substance suspected to be cocaine last month.
Confirming this, DSP Kwasi Ofori, acting Head of the Police Public Relations Directorate said the Police Administration was stunned by reports that Mr Tindow himself tested the substance by tasting it, after which he allegedly set the pastor free, having concluded that the substance was not cocaine.
Mr Ofori quoted the IGP as saying "This is a signal to all officers of the service to sit up and do the right thing as we will not cover up anyone."
He said it was wrong for the police officer not to have sent the substance to the forensic laboratory for testing. He expressed concern that in spite of the crusade against improper handling of drug related issues, "this should happen at Wenchi".
Mr Tindow is already under investigations following an allegation by the suspected marijuana (wee) farmer, Alexander Kufuor Frimpong that he had been paying the Divisional Commander c25 million bribe monthly to keep the police away from his farm.
Frimpong, wanted by the Police in connection with the discovery of the four hectare "wee" plantation at Ehiamankyere in the Wenchi district reportedly made the allegation against Mr. Tindow from his hide-out and threatened the life of Brong-Ahafo Regional Police Commander, Kwaku Ayesu Opare-Addo, "for destroying my 120,000 dollar farm."
Mr. Opare-Addo declined to comment on Mr. Tindow's interdiction when the Times contacted him. "I don't have any information for you, you should contact the police public officer,' he said yesterday.
Source: The Ghanaian Times