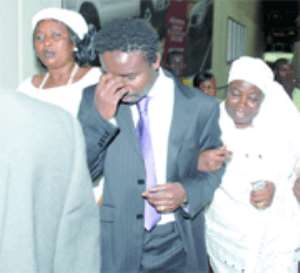 If the spontaneous celebrations that met news of the release of Daasebre Gyamenah were anything to go by, then the verdict was a popular one that came as a relief to the numerous fans of the highlife musician.
For almost one year, Ghanaian highlife enthusiasts have had to hold their breaths in anticipation of what fate might be pronounced on their star who was arrested in July 2006 for a drug offence in the United Kingdom.
Prior to the announcement of the verdict last week Friday, Ghanaians read with trepidation, reports in the media that said that the inability of a first jury to reach a verdict in November last year had necessitated a re-trial.
Many were those that stuck close to their radio sets in anticipation of what verdict the newly reconstituted 12 member jury would come up with.
While some prayed for God's divine intervention, others simply believed that 'the truth would set Daasebre free' and that he would be found innocent and released to come and continue his career.
One of the many people who spent the morning of last Friday praying for good news was Joe who owns a hairdressing parlour on the Spintex Road. "I heard that they were going to hear Daasebre's case again on Friday and I prayed to God that justice will finally be done and Daasebre would be released to come home to us," he said.
One can only imagine the state of excitement that Joe's salon was thrown into when his six assistants and himself heard that Daasebre had been found innocent.
"I was styling a customer's hair when one of the girls screamed from the inner office that Daasebre had been released. We all stopped what we were doing and gathered around the radio and when the news was repeated we all broke into shouts of joy. Even the customer was excited. Our star was finally free."
They were not the only ones who were ecstatic with the outcome of last week Friday's verdict. Kwaku who drives a taxi in Accra said he could not find words to express his excitement when he heard the news.
"It was the only outcome that I was expecting because I believed that Daasebre was incapable of the crime that he was being accused of. He was a good musician who was making some good money and certainly didn't need to traffic drugs to make a living," he said.
Another person who shares Kwaku's sentiments regarding Daasebre's innocence gave a most interesting assessment of the quantity of drug believed to have been carried by Daasebre as against his reputation.
He said that the amount of drugs (100 grams) that Daasebre is reported to have been carrying was too small an amount for someone who was so successful in his career.
"For someone of Daasebre's calibre and reputation,100 grams of cocaine would not have yielded him that much profit to entice him to put his whole career on the line. I believe he is innocent of the crime because he would have smuggled a greater quantity of drugs if he was doing it for commercial purposes."
Morris expressed happiness at the not guilty verdict proffered against Daasebre but intimated that this experience should serve as a caution for others who might either be tempted to make a quick buck or who accept parcels for people without checking their content.
"I guess Daasebre's next song will be titled Enye Mea, seriously though I am happy his lawyers managed to advance some good arguments that secured his release. It is up to his managers to turn this adversity into success and elevate him into a higher state than he was in before."
Silas Boadu, a banker was also emphatic about his conviction that Daasebre was not guilty. "Daasebre is one of my favourite artistes and I was very surprised when I heard that he had been arrested. Initially I though the report of his arrest was one of those false information that comes up against stars once in a while and I was really disappointed when this one turned out to be true.
"I followed the case closely in the media and I was convinced from what I learnt that he could not have known about the package he was carrying. I remember the account given by his father of the hour preceding Daasebre's journey and I remember thinking that he could not have done it.
Nothing happens without reason and I believe that this happened to serve as a caution not only to drug traffickers that they will be caught but also to anyone travelling to be very suspicious of parcels that they are asked to deliver to people"
Story by Juno Abena Turkson