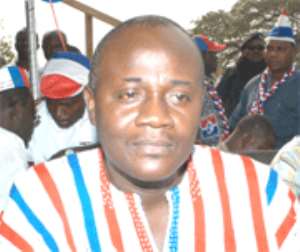 A Presidential aspirant of the New Patriotic Party (NPP), Mr Dan Botwe, has begun a one-week tour of the Ashanti Region with the firm assurance that nothing could force him to step down for any other candidate in the race for the flag bearership of the party.
He said he had the conviction to offer selfless leadership to the nation as President, stressing that would become possible by first winning the presidential slot to contest the presidency on the ticket of the NPP.
Mr Botwe, who spoke to the Daily Graphic yesterday after the first two days of the tour, said the signals were very positive that he would carry the flag of the NPP in the 2008 elections.
"I have gone beyond the targets I set for myself in the first phase of the campaign and when the second phase finally comes to a conclusion, there will be no shred of doubt about my chances of winning.
"After Ashanti, the Eastern Region will be the only region left for me to visit but I can tell you that I have made serious inroads into all the constituencies," a confident Mr Botwe said.
He stated that he would continuously pursue a campaign which would ensure decency in the party, explaining that the rank and file of the NPP demanded nothing but a clean campaign in the presidential primaries because "we cannot afford to disappoint our members".
Mr Botwe said he was imbued with so much passion for the nation and added that politics was all about getting things done to improve the lives of the people.
The aspirant indicated that Ghanaians would demand accelerated development after 2008, since the Kufuor administration had laid a solid foundation for economic take-off.
Mr Botwe said through the NPP under Mr Kufuor, people today had so much confidence in Ghana and the goodwill could be translated into something even bigger for the nation.
"But this calls for a leader who has the capacity to lead effectively and I rightly fit into that," he said.
Mr Botwe said, however, that in spite of the economic gains achieved, there was still a high degree of poverty in the rural areas.
"As I went round the villages, I saw the vast difference between the rich and the poor and I think an NPP government under Dan Botwe will seriously look at that," he stated.
He also expressed concern about the way the respect that teachers had in the past had been eroded and stressed that there would be an aggressive move to address that problem.
He said having been brought up in the rural area and having associated very well with the people in those areas since he entered politics, he knew he had the wherewithal to change the situation there.
Story by Kwame Asare Boadu