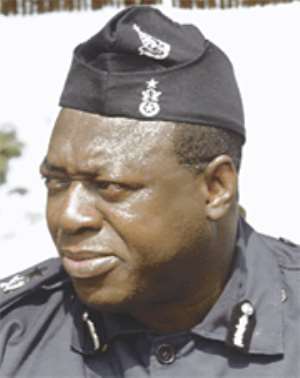 The Inspector General of Police (IGP), Mr Patrick Kwarteng Acheampong, has warned police officers who do not want to play by the rules to make the exit before they are exposed and dealt with.
He said police officers who found it difficult to abide by the tenets of the Ghana Police Service and adopt negative attitudes to undermine the image of the service should "walk out because they would never be spared when exposed".
He stated that measures had been put in place to weed out deviant officers from the service by not only exposing them but also instituting criminal proceedings against those who fall foul of the law.
Speaking to police personnel at Akomadan in the Offinso District of the Ashanti Region as part of his tour of the region, Mr Acheampong said the time had come for police officers to exhibit the highest sense of professionalism in all their activities to win public confidence.
The durbar was to provide a forum for the IGP to interact with the police officers and to learn first-hand some problems that undermine their operations. It also provided an avenue for the IGP to explain some key issues concerning peacekeeping operations to the police personnel and requirements for selection for participation.
Mr Acheampong advised the police personnel to stick to the norms of the service to avoid creating problems for themselves.
"You should not only abide by the norms of the service, but should also respect the human rights and dignity of civil society to win their confidence", he advised.
He asked the police officers to use their weapons only when their lives were in danger, stressing that "we would not spare anyone who drags the name of the service in the mud but would deal with them ruthlessly because any negative attitude you portray does not only disgrace the service but the state as well."
Prior to the durbar, the paramount chief of the Offinso Traditional Area, Nana Wiafe Akenten III, had expressed concern about the attitude of some police personnel at Nkenkansu.
According to him, some of the officers had compromised their professional standards by taking sides in a chieftaincy dispute at Nkenkansu as well as refused to take action against a section of the youth who had chosen the path of violence to settle personal scores.
Nana Akenten expressed concern about the inaction of the police to enforce law and order in the community, adding that "the community is now sitting on a time bomb which can explode at any time to create confusion in the community".
He, therefore, called on the IGP to transfer such personnel from Nkenkansu "because they had not only become part of the community and fanning chieftaincy disputes but are also creating a situation that can lead to violence in the near future".
Story by George Ernest Asare