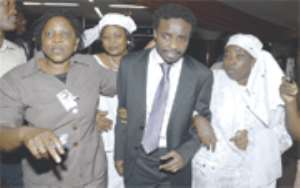 Ghana's highlife star, Daasebre Gyamenah, has paid tribute to Ghanaians for their support and prayers during his one-year custody in a UK prison.
"Thank you very much for your prayers and support," an elated Daasebre said on arrival at the Kotoka International Airport on Tuesday night.
When this reporter asked him how he felt about his arrival home as a free man, he remarked, "I am happy to be back home. Home is home."
When the British Airways flight carrying the musician touched down at the KIA at 8:30 p.m. on Tuesday, he was whisked away in a waiting pink Nissan Terrano to avoid being "mobbed" by the crowd.
That was after he had been kept for 20 minutes at the VIP Lounge by the airport security.
It was clear from his demeanour that the ace music star was elated at his arrival home after almost a year's trial in the UK on suspicion of possessing narcotic drugs.
Daasebre was dressed in a nice black suit, a light violet shirt with a violet tie and a pointed black shoe, while his wife, Deborah, who was at the airport to welcome him, was in a white lace, a white veil and white shoe to complete her all-white combination.
Other family members, his fans and the wife of his current producer, Mrs Theresah Mensah of Big Ben Promotions, were also dressed in all-white attire. He arrived with his manager, Mr Fred Nuamah.
Daasebre was freed by the Isleworth Crown Court in London last Friday of his alleged involvement in a drug-related case after almost a one-year trial.
He was consequently released by the British Prisons authorities on Monday after the jury which tried him found him not guilty of the offence.
Story by Musah Yahaya Jafaru