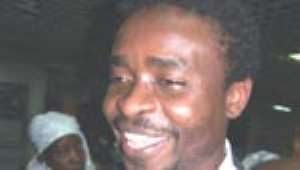 MANY FANS and well wishers of ace Ghanaian musician, Daasebre Gyamena who besieged the Kotoka International Airport on Tuesday to welcome home their idolised musician cum entertainer from his aborted sojourn in the UK, were disappointed when they were denied the opportunity to catch a glimpse of him on his arrival.
Daasebre was literary whisked away by members of his entourage from the eagle eyes of the cameras, anxious fans and well wishers who had been waiting patiently for his arrival.
It was simply a hide and seek game at the airport as Gyamena and his men kept running from one point of the airport to another, trying to evade 'inquisitive eyes'.
They eventually sneaked through the departure passage near the VIP Lounge, entered a four-wheel wine Terrano and off, he was driven away.
The fans could simply not believe their eyes, and many of them were seen and heard cursing the musician for being ungrateful.
He arrived aboard a British Airways flight at 8:15 pm and after going through immigration formalities, Daasebre, who was spotted in brown suit with a white shirt and a tie to match, was seen in the accompany of his girlfriend of four years, Fred Nuamah, his manager, family members and friends.
Just as they approached the exit of the arrival hall, shouts of 'Daasebre', Daasebre', 'the champ' and other accolades, coupled with 'flashes' and snaps of a handful of paparazzi, scared the hell out of Daasebre and his team which quickly made a retreat. That was when the hide-and-seek affair began.
Fred Nuamah, who was his manager and at one point, implicated in the cocaine saga, told DAILY GUIDE at the Airport that the music maestro was overwhelmed by what he saw in the crowd and since no security measures were put in place to ensure his safety, they had to resort to the hide-and-seek game.
Recounting his 'ordeal' at the Isleworth Crown Court in London where he had to testify for Daasebre, Mr. Nuamah said he did not really know what happened or what he said that made the jury believe his story but whatever he might have said that helped to change the fate of Daasebre was divinely inspired.
"I'm only a vessel and as a human, I think that God spoke through me. I was strong and couldn't have said what I said without God's intervention and I do not take credit for that," he said humbly.
Asked how he felt the first time the news broke out that Daasebre had been arrested on charges of trying to import cocaine to UK and his name came up as the brain behind Daasebre's woes, Mr. Nuamah said, "As his Manager, I didn't feel anything or worried because I knew that by the grace of God, I and Daasebre would be vindicated and what happened was a manifestation of our trust in God."
The expression and countenance of Mr. Nuamah simply epitomised happiness, especially in the face of his name being linked with the saga.
At the airport was Daasebre's new manager, Ms. Lousia Duah who said she came on board Daasebre's team recently to help manage him. She expressed the hope that, with her on board, the ace musician would develop into a new personality.
"We told Ghanaians that he was innocent but people were in doubt; now that he has been set free, the doubting Thomases would be shamed," she said.
Also highly disappointed was Mrs. Theresa Mensah aka Mama Big, the wife of Daasebre's Producer, Benjamin Mensah, known in showbiz as Big Ben, who was representing her husband to welcome their artiste at the Airport, yet was refused entry into the arrival hall by security officials.
Mama Big was ready with her powder and a calico but could not get near Daasebre because of the hide-and- seek game they resorted to.
She however told DAILY GUIDE that Big Ben had lost his sister and was in Kumasi organising the funeral, hence his inability to come to the airport.
Mama Big described Daasebre as a humble, God - fearing person who would not do what he was accused of.
Big Ben Production is currently promoting Daasebre's current album, "A friend in need" which is making a lot of impact on the airwaves, especially since he was arrested.
"He is a hardworking guy and as a good musician, we are ready to work with him," she assured.
Some fans DAILY GUIDE spoke to did not hide their joy that at least, they could confidently say their idol had been set free and returned to Ghana, though they were not happy about the way they were treated at the airport.
Vida Asantewaa and Nana Owusuaa from Odorkor and George Nana Yeboah, aka Lightman from Kwashieman, all in Accra, lamented that because of their love for Daasebre, they chartered a taxi all the way from Odorkor to the Airport, only to be disappointed.
They, however, wished him well and promised to keep patronising his music and shows at all times.
Daasebre Gyamena was arrested in July, 2006 by UK immigration officials for allegedly importing 100 kilogrammes of cocaine into the United Kingdom.
He was subsequently charged before Isleworth Crown Court in London and tried by a 12-member all - white jury but which was unable to reach a verdict.
A re-trial became necessary after the jury was reconstituted into mixed races but again, it did not reach a verdict. The court, presided over by Judge Mark MacDowell, then set him free after two high profile personalities from Ghana, including Nana Kwaku Duah aka Tic Tac and Mr. Fred Nuamah, his manager testified for him.