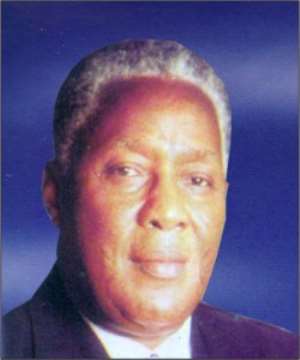 The Managing Editor of the Statesman newspaper, Gabby Asare Otchere Darko has apologised to the NDC MP for Ningo Prampram, E.T. Mensah for any inconvenience caused him following his (Gabby's) mentioning of his name in relation to an alleged plot to kill Haruna Iddrisu.
Haruna, the NDC MP for Tamale South, has been in the centre of publications by two newspapers, the Gye Nyame Concord and the Ghanaian Observer claiming some NDC members, including two MPs had been involved in a meeting to plan his assassination.
The newspapers failed to name those involved in the meeting, except to give some general description of some of the participants.
Otchere Darko, however mentioned the names of E.T. Mensah and Doe Adjaho last Friday on Adom FM as the NDC MP's thought to have participated in the diabolical meeting. But he quickly discounted the suggestions that the two MP's, whom he described as honourable men incapable of the alleged plot, could be part of plans to kill Haruna, if indeed the plot was true.

E.T. Mensah has threatened to sue Gabby to force a disclosure from him the source that pointed him out as a participant of that diabolical meeting.
But Gabby told Adom FM on Thursday that he did not mean harm when he mentioned those names and at worst, could have been said to have helped cleared the two gentlemen from the allegations rather be sued for defamation.
Gabby who admitted he was not privy to E.T. Mensah's cause of action, said he did not believe though that anyone could force him to disclose an information source.