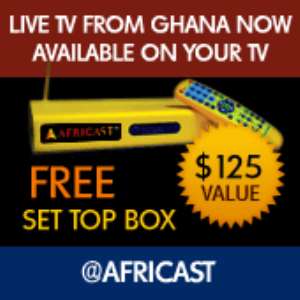 The much awaited IPTV set-top box from the world's leading broadcaster of African Television Stations over the internet is now available and you must get yours now.
Africast IPTV is the only way to get exclusive live television, broadcasted directly from Africa to your TV set, over the internet.
The country-specific TV channel offerings include:
 Popular African dramas
 Exciting soccer matches
 The best current African movies
 Breaking news
 Entertainment by well-known African performers
 The latest African music videos, historical films, and documentaries.
All of that and more is now available live from African broadcasters on your television with the click of a remote control!
Sound impossible? Not with Africast IPTV.
Using the world's most advanced IPTV (Internet Protocol TV) technology; Africast can bring TV content from Africa through the internet to your television.
And you don't even need a PC! Just connect the Africast set-top box to a TV set and plug it in to your broadband access - either cable or DSL. Turn it on and with one click of the remote control you'll be watching Africast IPTV.
This special offer is available only to Africast subscribers for a limited time, as follows:

Get a Free set-top box ($125 value) with a one-year subscription.
OR
Pay half-price for a set-top box (savings of $62.50) and get the first month service Free!
Start enjoying a new, exciting TV experience. Order the Africast set-top box at Africast TV