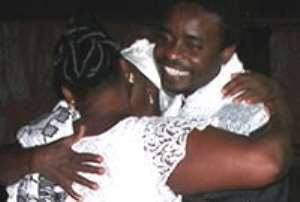 Daasebre`s mother-in-law welcomes her son Dwamena home.
A large crowd thronged the Kotoka International Airport to welcome home the highlife star Daasebre Dwamena on on Tuesday night.
This follows his eventful sojourn in the United Kingdom. Until he boarded the Accra-bound British Airways flight this afternoon the singer was being kept at an immigration holding facility.
Daasebre Gyamena was released from prison on Monday three days after he was acquitted of narcotic offences. A jury hearing his case last Friday returned a not guilty verdict. The highlife maestro has been in the custody of the London Police since he was first arrested in June of 2006.