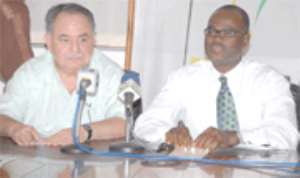 Contrary to doubts about Ghana's readiness to host next year's African Cup of Nations (CAN 2008), the Confederation of Africa Football (CAF) says it is confident the country's facilities will be in excellent form to host the rest of the continent.
It, however, expressed worry at the lack of training pitches and also questioned the standards of some of the airports to facilitate local travels ahead of the January competition.
So far only the El Wak Stadium, one of the 16 earmarked training pitches has been completed, with the remaining 15 at preparatory stages.
But Dr Kofi Amoah, Chairman of the Local Organising Committee (LOC), told the five-man CAF Inspection team headed by Slim Aloulou at a press conference in Accra last Saturday, that the projects had been delayed due to the country's new procurement law.
He said since the process of awarding the contracts had been completed "the men will hit the grounds presently."
The team was further assured by Mr Frank Boahene, an ex-head of Corporate Grounds of English Premiership side, Fulham, who is constructing eight of the 16 training pitches, including the El-Wak Stadium, that barring any hitch the facilities would be ready by September.
The LOC is building four training pitches each at the four venues, including changing rooms.
The CAF team arrived last Thursday on its seventh visit to Ghana to assess the country's facility for the three-week tournament and visited all but the Essipon Stadium in Sekondi-Takoradi due to time constraint.
Also visited were the Korle-Bu Teaching Hospital for its medical and doping facility and the Aviation Social Centre for Sports-related activities.
"Earlier there were so many question marks but now there has been tremendous improvement on the main facilities since our last visit, congratulations," Mr Aloulou said.
The team was particularly elated at the expansion of rooms to about 168 at the new Golden Tulip Hotel (Formerly City Hotel)in Kumasi, which, it said, was more than enough to host the teams and CAF officials there.
They are due in Ghana again later in the year.
Story by Daniel Kenu