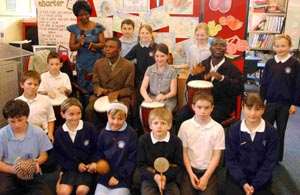 Ghanaian teachers at Figheldean school as part of an ongoing link with Abonse school in Ghana. Letitia Boateng, James Dademe and Ofori Amoyau with pupils from class 3 and 4. DB2168
CHILDREN at St Michael's School in Figheldean experienced a different life and culture when two Ghanaian teachers came to visit.
The school has formed links with Abonse School in Ghana, and two teachers from St Michael's, Ann Wilkins and Jan Plank, visited Abonse School earlier this year. This week, saw James and Ofori from Abonse School make a two-week return visit.
During their busy and varied programme, they have been visiting lots of local schools and churches. They taught a class at St Michael's explaining to the children about their way of life in Ghana from a child's point of view, and did a drumming workshop.
Josephine Semple, 11, is a member of the school council and enjoyed the visit. She said: "We asked them some questions about what it was like at their school and life in Ghana. They told us you have to pass a test before you can move up a year.
"They also did an afternoon where they taught us games and did storytelling - it was exciting."
The teachers also visited a slavery exhibition in Bristol with children from St Michael's school. Josephine added: "We learned about how the slaves felt and got to talk to the Ghanaian teachers about what they thought of it."
The school, St Michael's Church and people in the village also organised a Ghana/Figheldean celebration evening at the village hall with a band, dinner and dancing, which raised more than £1500 for them to use to buy books, computers and other equipment for Abonse School.
Towards the end of their visit, the two Ghanaian teachers also met Salisbury MP Robert Key and went to the Houses of Parliament and met the Mayor of Salisbury, Sheila Warrander