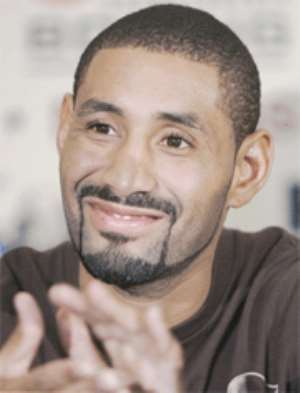 Ghanaian international boxer, Joshua 'The Hitter' Clottey has expressed his condolences to the family of Diego 'Chico' Corrales who died in a motorcycle accident in Las Vegas last week.
Clottey, who spoke to the Daily Graphic in Accra yesterday said the sudden demise of Corrales was a big blow to international boxing. "I was saddened by the news and for a long while I find it hard to believe," he said.
The Ghanaian boxer defeated Corrales, a former two-division world champion, in his last fight in Missouri, USA on April 7. According to Clottey, he called Corrales on phone after their fight to see how he was faring since he (Corrales) had suffered a broken jaw during their fight.
"We had a hearty converstation but I never knew I was indirectly bidding him farewell," he said.
Clottey (30-2-0) said the American boxer's exploits in the sport should be a source of inspiration for younger boxers who are dreaming of conquering the world.
"Corrales surely won respect and admiration for himself after establishing himself as the best in two weight divisions over a period. I hope that all boxing fans will from time to time say a quiet prayer for his family who will be most affected by the loss. This, without a doubt is a sad moment for boxing," Clottey said in a reflective mood.
Joshua Clottey's victory over Corrales last month was descibed by connoiseurs of the sports as his biggest, due to the pedigree of his opponent.
During his lifetime 29-year-old Corrales (40-5-0), annexed the WBC lightweight, IBA Continental super featherweight and lightweight, IBF and WBO super featherweight titles.
Story by Nathaniel Attoh