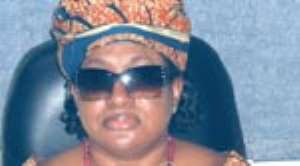 •Philo Appiah Speaks Out
Mrs. Philomena Appiah, one of the directors of Global Garments and Textiles Limited (GGTL), has debunked media reports that her company had benefited from free cash and preferential treatment from Export Development Investment Fund (EDIF).
She described also as absolute fabrication, allegations that she arrogantly confronted the Minister for Trade and Industry, Mr. Alan Kyeremanten over the disbursement of the fund and had a 'booty' from the minister, saying it was impossible for her to have done such a thing.
On the contrary, she charged that unlike a couple of her competitors in the garment industry, her company had not received a penny from any government institution to boost its operations, challenging any doubting Thomas to check up from the National Investment Bank (NIB).
In a lengthy interview with DAILY GUIDE on Thursday, Mrs. Appiah said whatever monies EDIF claimed it had spent on GGTL was only in respect of the renovation of the government premises rented out to the company.
According to her, it cost her almost ¢4.6 billion to transform the virtually dilapidated structure into its present shape, pointing out that EDIF, after a long tussle, paid her bankers only ¢4.1billion, even though the issue was investigated by the Bureau of National Investigations (BNI) and subsequently confirmed by consultants from the trade ministry.
"Go to NIB and check. We still owe them about ¢3billion because it took them 2 years to repay the very loan they agreed we should collect from the bank for the renovation.
The Ministry of Trade and Industry and the President's Special Initiative (PSI) said they were not ready to put the place in shape and asked us to pre-finance the project.
That was why we went for a loan from the bank and all this while, the interest has been accumulating, so tell them the money is not for free," she said.
She stated further that even though she was a full-blooded Ghanaian who should have been considered for whatever assistance was available, EDIF preferred helping companies owned by foreigners, and opined that it could be a result of her feminine status.
"EDIF is denying me many things because I am a woman.
I don't see anything arrogant with asking for what I deserve as a citizen of this country.
They only renovated their own building and rented it to us. So as far as we are concerned, we did not get any free cash from them," she explained, adding, GGTL was 100 per cent Ghanaian-owned.
Mrs. Appiah said she was happy that despite the inability of government institutions to come to her aid, her company had been able to weather the storm, and had so far trained over 900 Ghanaians, after which she employed 350 as permanent workers. GGTL, she revealed, currently sews uniforms for the US Army, and the Ghana Army and police.
Asked why the brouhaha in the media about her company and attack on her person, Philomena, who said her vision was to lead the garment industry in West Africa, said some people somewhere might be envying her success.