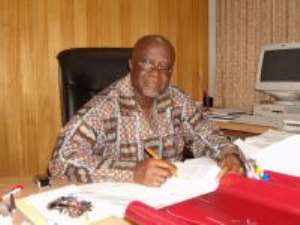 15,000 more affordable houses in offing Cynthia Boakye , 11/05/2007 The Minister for Water Resources, Works and Housing, Hackman Owusu-Agyemang yesterday signed a memorandum of understanding with Global Interest LLC of the United States for the construction of about 15,000 houses to compliment Government's affordable housing scheme.Under the agreement, Global Interest LLC will finance the construction of the 1, 2 and 3 bed room apartments through their local partners, Goshen International Company Limited.Global Interest LLC will provide financing for the projects and hand over the buildings to the Government of Ghana through thale or rental.e Ministry of Water Resources, Works and Housing for onward sale or rental.
It is expected that the construction of the housing units will be spread across all regional capitals as well as populated district capitals at already located sites in the country to benefit low and middle income earners.
The houses, upon completion will be allocated on owner-occupied basis to prevent the incidence of middle men acquiring and sub letting it at inflated rates for persons desperate for accommodation.
The project, which is expected to span a period of five years with a total investment of about $64.5m is expected to provide accommodation to at least 12,000 and over 60,000 persons nation wide as well as offer various types of employment for the youth.
In a brief remark before the signing ceremony, Mr Owusu- Agyemang disclosed that he had fallen victim to crooked land lords in the early stages of his life, hence his determination to ensure the success of Government"s affordable housing scheme to avoid the recurrence of such an incident.
He said, with the intervention of the affordable housing schemes already started, and these new ones, the situation where people spend their whole life's savings on building or acquiring their own homes will soon be a thing of the past.
The Minister, who is also the Member of Parliament for New Juaben North, noted that, though government is embarking on the construction of affordable housing for the citizenry, it has decided to create the enabling environment for the private sector to also play a part in the housing market to tackle head on the perennial shortage of housing in the country, estimated at a 500,000 unit shortfall.
He hinted that the ministry had identified various areas in the country, including Koforidua, Tamale and Wa which will be made readily available to companies who would want to invest in the housing sector.
President of Global Investments LLC, Steve Ams, on his part, assured that his outfit would undertake the project with all dispatch to help meet the accommodation needs of Ghanaians.