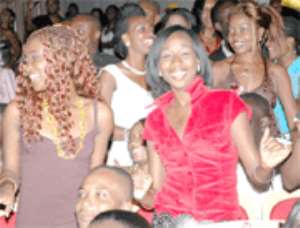 When the curtain came down at the National Theatre on The Ghana Music Awards Festival last Saturday, three of the most disappointed nominees in the house must have been Ofori Amponsah, Kwaku Gyasi and Obrafuor.
Although all three had won some awards they definitely had their eyes on the coveted Most Popular Song of the Year award and to think that new entrant into the game, King Ayisoba, swept it from 'right under their noses' must have grated on their egos.
Following the frontpage story of the May 3 edition of Graphic Showbiz which tipped Ofori Amponsah to set a record by winning that award twice, he most probably arrived at the National Theatre, 99 percent sure of walking away with the top award.
What a 'swerve' it was when King Ayisoba was mentioned as the winner of the award. It took a while for the realisation to sink in that Emmanuella did not win the Song of the Year and neither did Nyame Aseda by Kwaku Gyasi.
The gospel star was so sure he was going to win the most popular song of the year award that he said at the launch of the GMA that this year was going to be the first that a gospel artiste would emerge as winner of the Most Popular Song of the Year.
If an award was to be given for the most entertaining act for the night, then Samini would have won it.
The awards night was a glamorous fashion night featuring quite a large number of players on the Ghanaian entertainment scene.
There were actresses like Jacqueline Appiah and Nadia Buari topping the bill and the list of radio stars that made it to the show was even long. They included Kojo Oppong Nkrumah, Doreen Andoh and DJ Black (all of Joy FM), Mufti Dabre, Billy Ocean and Akwesi Aboagye (of Peace FM) and a whole lot of others.
The red carpet interviews that preceded the show was interesting but it became a bit too much when it dragged on. The show which was billed to begin at 8pm began at about 9:30 and that was not good enough. What this meant was that the show was going to drag into the early hours of Sunday, which it did.
Although the power feeding the sound equipment went off at a point during the event, the organisers, Charter House, should be patting themselves for pulling off another successfully Ghana Music Awards festival.
story by Juno Abena Turkson