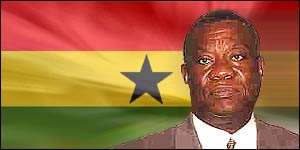 Mills Told As He Tours Greater Accra
John Evans Atta Mills, the NDC Presidential Candidate, on Monday spent the better part of the day touring parts of the Greater Accra Region and having a one-on-one encounter with scores of the electorate.
From 8 a.m. to past 6 p.m., Prof Mills toured parts of the Ablekuma and Weija Constituencies spending time talking to, and listening to the concerns and needs of the people in the various localities.
Variously telling the NDC Presidential Candidate that "it is your time to be president so we would vote for you", hairdressers, dressmakers, charcoal sellers, quarry workers, market women, taxi drivers, shoemakers, unemployed youth, chop bar operators and other categories of persons, admitted that times are indeed very hard for them and that having watched their human existence deteriorate under the NPP, they have no other option but to vote them out.
And in voting the NPP out, the people said that there was no way they were going to giver their votes to any other person but Prof Mills.

The NDC Presidential Candidate assured that people that having spent time in opposition, the NDC had done a lot of introspection and with a firm commitment to its Social Democratic philosophy, would make sure that the basic necessities of, food, clothing and shelter, reaches as many people as possible.

The former vice president also assured the people that as somebody who took personal charge of the economy between 1996 and 2000, and having put in place necessary take-off structures only for the NPP to win power and turn the clock of progress backwards, said that a Mills government would pursue a human-centered approach to governance that would distance itself from the "property owning agenda" of the NPP which is favoring only Kufuor and those close to him.
Everywhere Prof Mills went, the people were really touched by his presence and the fact that he had come to them at their various places to talk to them himself and to assure them of his leadership that would make truth, openness its guiding principles.
Prof Mills' presence was so much felt on the ground that an NPP organizer in Sowutuom could not help but admit that if Prof Mills continues to approach the election the way he has started there is no way he would not win the elections.
"What Prof is doing is similar to what Kufuor did in 2000 and won. With the way my people are fighting amongst themselves, if Prof continues this way, even though I may not vote for him I believe he would win because the people want to have a leader they can identify with, and the more Prof engages the people directly, the more they see his personal integrity, sincerity, and humility," the NPP Organiser said.
Prof Mills, doing most part of the tour on foot, visited areas like Kwashieman, in the Ablekuma North Constituency and Sowutuom, Santa Maria, Race Course, Chantan, Tabora, and Alhaji in the Weija constituency.
Apart from meeting the everyday people, Prof Mills also paid courtesy calls on Chiefs, Opinion Leaders, and Religious Leaders.
In the case of the chiefs, Prof Mills's message was simple; "I have come to the people on your land and I can't do that without seeking your permission".
Prof Mills, who is going to spend close to three weeks touring the Greater Accra Region, was accompanied by Madam Sherry Ayittey, National Vice Chairperson of the NDC and stalwart of the 31st December Women's Movement, Danny Annan, the NDC's Greater Accra Regional Chairman, Jerry Akwei Thompson, Greater Accra NDC Regional Organiser, Theo Chai, Greater Accra Deputy Regional Secretary, Dan Sackey, Weija Constituency Chairman, and a host of party activists.
Story by Ofeibea Akuffo