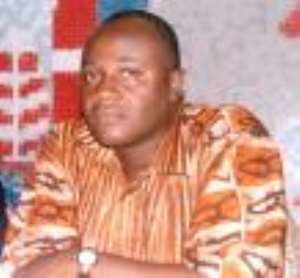 He Should Go And Debate Effah-Darteh & Co
- Mills' Aide
"…Mills Will Not Debate Persons Who Get Booted Ignominiously Out Of Ministerial Office"
Mr. Koku Anyidoho, In-charge of Communication at the office of Prof. Mills, has described comments reported to have been made by Dan Botwe against Prof. Mills as "the ranting of a man who, apparently knowing that there is no way he can convince the NPP delegates to elect him on his own accord, is resorting to mudslinging in the hope that this would score him some points."
"I have news for him; if this is the way he wants to conduct his campaign, then he should know that his quest for the flagbearership is doomed to failure. If he does not know, he should go and ask those who tried to hinge their whole campaign on what they perceived to be Prof. Mills' health problems but ended up failing miserably," Koku stated.
Mr. Anyidoho was speaking to The Ghanaian Lens in an exclusive interview to react to a report in The Chronicle newspaper of yesterday that had Dan Botwe trying to present Prof. Mills in a negative light.
Reacting to a portion of the said report that said Mr. Botwe said he would welcome a debate with Prof Mills, Mr. Anyidoho said, "Prof. Mills is prepared to debate anybody the NPP will put forward as its flagbearer any time, any where. But he would not waste valuable time debating persons who could not hold simple Ministerial office for a four-year period without getting booted ignominiously out of office."
"Of course, if those are the kinds of persons the NPP choose to elect as its flagbearer, then Prof. Mills will debate them at anytime, anywhere, once they are elected. But until then, such persons should confine themselves to debating their numerous colleagues, like Effah-Darteh, Musa 64 etc., with whom they are competing in the NPP," Mr. Anyidoho advised.

"Those of us on the side of Prof. Mills are not in the least perturbed by Dan Botwe's lame attempt to attack the integrity of the good Professor per some of the untruths that he put out. We expect nothing better from some of those aspiring to lead the NPP, especially as the NPP, as a party in government, has failed so miserably," he stated.
"The massive failure of the NPP, as clearly demonstrated by the energy crisis that is killing industries, thus rendering Ghanaians jobless and entrenching poverty, crisis in the water sector where tariffs are climbing by some 300%, crisis in the students front, crisis in the NHIS where millions of people who have registered and paid their premium can still not access healthcare under the NHIS because of lack of identity cards, just to mention a few, is such that the likes of Dan Botwe who are seeking to lead the NPP apparently know that there is no way the good people of Ghana would entrust the destiny of this country in the hands of such incompetent crop of politicians," Mr. Anyidoho stated.
By Mckyntosh Aidoo