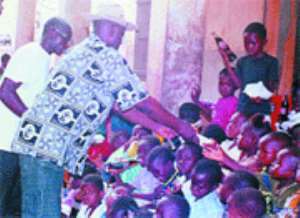 About 2,000 needy children from the Bolgatanga municipality and the Talensi-Nabdam District in the Upper East Region were feted at the annual Joy FM Easter Soup Kitchen held in Bolgatanga.
The children were also given free medical care and counselling. At about 11 am the children converged at the Ramsey Park in Bolgatanga to participate in the programme.
The programme was sponsored by Joy FM and the [email protected] Secretariat. It was organised by Style FM, a Bolgatanga-based radio station and partner station of Joy FM.
Other organisations and groups which supported the programme were Bencyn Pharmacy, Andrews Adjei Annex and the BONABOTO-United Kingdom Branch.
The BONABOTO is an association of citizens from the Bolgatanga, Talensi-Nabdam and Bongo areas in the Upper East Region.
In an interview with Junior Graphic, a marketing consultant with Style FM, Mr Mark Wanaba, said the programme had previously been held in Accra only but because of the country's Golden Jubilee celebrations it was extended to all the 10 regions.
The Upper East Regional Minister, Mr Boniface Gambila, who was the guest of honour, commended the management and staff of Joy FM for the kind gesture and urged other organisations to emulate their gesture.
He said it was not enough to profess concern for the needy, stressing that efforts should be made to demonstrate the love and concern "We have for them".
Story by Samuel Abaane