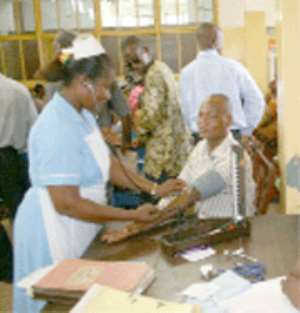 First signs of cracks within the ranks of striking health workers have emerged at the Komfo Anokye Teaching Hospital (KATH) in Kumasi following a decision by some of the workers there not to participate in the nation-wide strike.
Confirming the decision to the Daily Graphic yesterday, a senior member of the workers at the hospital, Mr Kwame Boakye, said they had to defy their colleagues because human lives were at stake and called for the adoption of an acceptable means of addressing the grievances between health workers and the government.
Ghana's leading medical facility, the Korle-Bu Teaching Hospital, and other major and minor health institutions are currently facing severe hardships following the action of the health workers.
In spite of the action having been declared illegal by the National Labour Commission (NLC) and the government, the numerous pleas to the health workers to return to work and threats of possible dismissal, the industrial action continues.
Further to their return to work, Mr Boakye and his other colleagues have constituted themselves into a group which is going round to educate members of the Health Workers Group (HWG) on the need to ensure industrial peace and to consider human lives as being more important than salaries.
"So far our mission has worked and our colleagues remain at their workplaces," he affirmed, and promised that they would continue to appeal to the conscience of other colleagues to return to work.
In Mr Boakye's view, it was preposterous for anyone to believe that only strikes could force governments to act, noting that even if that was the case, "we should not put human lives in danger".
A hospital source, however, was hopeful that a compromise would be reached between the government and the workers to ensure a congenial working atmosphere at the hospital.
"We pray that the government will act swiftly because we don't know what will happen tomorrow," the source told the Daily Graphic.
It said what was going on in the health sector was not in anybody's interest and it was important for a lasting solution to be found to the problem.
Story by Kwame Asare Boadu