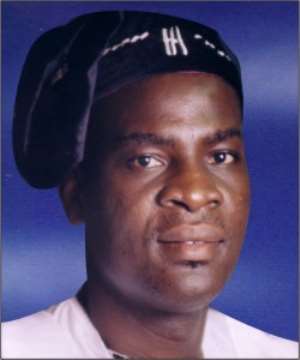 The Ghanaian Observer newspaper on Wednesday published a chilling assassination plot it said had been hatched against Honourable Haruna Iddrisu, National Democratic Congress (NDC) MP for Tamale South.
The paper alleged that the assassination plot was hatched by some members of the young MP's own party, the NDC, and was to get him 'eliminated' for being a turn coat.
The closest the paper came to identifying those involved in the wicked plot was name one as an NDC MP in the Greater Accra Region and in whose house the plot was mastered and the other, also "a leading NDC MP from the Volta Region who the speaks with a twang in his speech."
The paper quotes a source that leaked the assassination plot as saying that Haruna's elimination was to be with "immediate effect."
"After various options for the assassination plot had been weighed, our source revealed that it was settled that a person close to Haruna Iddrisu should be recruited and used. Guess who was settled on to be recruited? Haruna lddrisu's driver. Our source has however not confirmed that Haruna Iddrisu's driver has been recruited as yet or been contacted yet.
According to the paper, details at the meeting suggested that Haruna would be waylaid on his way from a concubine's house; which his driver is conversant with and since his driver knows his times of visits, he is the best person to be recruited for the job, which entails shooting the young MP dead and making it appear like a robbery.
"Checks and further checks this paper has undertaken have revealed that somehow Haruna Iddrisu has been apprised of the plot. Haruna was initially said to be shocked and laughed at the fact that some persons from within his own party will consider such a plan against him.
"Later facts were however to make him change his decision as the plan leaked. Even a top person in the NDC met a section of the persons who met in the NDC MPs residence to hatch the assassination plot and berated them for hatching such a plot against Haruna Iddrisu in the open when they know that it will leak."
The Ghanaian Observer said when it reached Haruna Iddrisu on phone on Tuesday to get his reaction to the plot (the details of which are now obviously known to him), he laughed, sighed and in response to a question as to why members of his own party will want to assassinate him said "I don't know ... o. I have no comment on it as at now but all I will want to say is that my hands are in the hands of my maker, Allah".
The paper said NDC insiders and some media personalities have confirmed that Haruna has peen lately complaining about the sort of treatment he gets from some persons within the party who see him as too independent-minded or a turn coat.
He also has this tag of being an Obed Asamoah loyalist and even surprised many when he did not follow Obed when he exited the NDC.
The paper however said that security agencies were aware of the developments concerning Haruna Iddrisu.