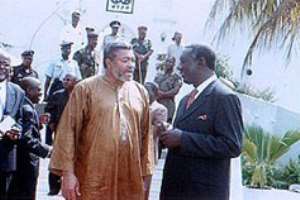 While it is by now common knowledge that both President John Agyekum Kufuor and former President Rawlings attended this year's Akwasidae Festival of the Asanteman over the weekend, The Independent says, the two were engaged in what can clearly be termed as a typical game of hide-and-seek.
President Kufuor arrived at the durbar ground in grand style amid thunderous applause and cheers from the thousands of spectators that had gathered for the Akwasidae in Kumasi.
The President dressed in rich Kente and native sandals to match gave one of his brilliant dances to Adowa music as he approached the Asantehene, Otumfuo Osei Tutu II who was sitting in state to exchange pleasantries with him.
As custom demands President Kufuor presented assorted drinks including one crate of schnapps to Asanteman as his contribution to the celebration.
All the time that President Kufuor was there the people were saved the benefit of the drama till he had left.
Just moments after President Kufuor had left the durbar grounds, ex-President Rawlings also arrived with his entourage also to an uproar of cheers and clapping from the crowd.
Former President Rawlings' arrival was itself seen as a huge surprise as it appears he was least expected there by the crowd.
Soon the durbar grounds was overtaken by on open debate as people discussed issues relating to the two gentlemen, including any expectation of reconciliation between them.
But the highlight of the debate was whether President Kufuor and ex-President Rawlings did intentionally avoid each other on such a great occasion when an enduring aspect of national culture, aspects of which speak reconciliation was on display to thousands of people from all walks of life, both from within and the country.
The occasion saw several delegates from countries such as Libya, Nigeria and the United States.
Source: The Independent