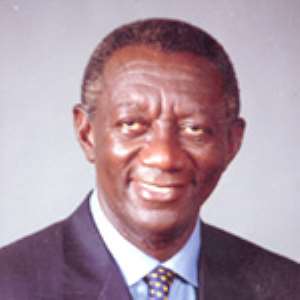 President John Agyekum Kufuor last Saturday cut the sod to commence the construction of a waste-to-energy plant at the cost 135,550,000 US dollars for the Kumasi Metropolitan Assembly (KMA) in Kumasi in the Ashanti Region.


The ceremony took place at the Kumasi Landfill Site at Oti, near Dompoase in the Kumasi metropolis. The project is being undertaken by Cinergex Solutions Limited, a Canadian firm, under a Build, Operate and Transfer (BOT) agreement with the KMA, and will recycle solid wastes generated in the Kumasi metropolis and processed into electricity.

Under the agreement, the KMA will supply 1000 tones of solid waste a day to the plant which will be recycled to generate between 30-52 megawatts of electricity, which is about the 30 per cent power requirement of the metropolis.

The power generated will be sold to the Electricity Company of Ghana to supplement that of the Volta River Authority (VRA) for distribution to electricity consumers. The plant, which will take 14 months to complete, is expected to offer 2000 temporal jobs and 800 permanent jobs to residents in the metropolis.

Speaking at the ceremony, President Kufuor said the issue of sanitation had been a major challenge for local authorities and continued to take larger part of their revenues. He pointed out that, sanitation situation in the country was purely attitudinal despite the continued education by the local authorities aimed at changing the mindset of Ghanaians.

The President said the amount spent by the metropolitan, municipal and district assemblies on environmental sanitation, was colossal, yet the people had not changed their attitudes.

He said with the sod cutting ceremony, the process of turning solid waste into electricity in Ghana had just begun and it was in fulfillment of government's desire not to rely solely on one power Supply Company, but to open up the energy sector to others to create competition.

President Kufuor said the current energy situation had affected every aspect of the economy; especially the manufacturing sector and government would embrace projects such as the Plant to add to the energy requirement of the country.

He said the Ministry of Local Government, Rural Development and Environment would encourage other metropolitan, Municipal and district assemblies that had the capacity and capability to explore the possibility of turning their waste into energy.