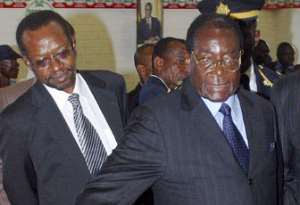 Zimbabwean President Robert Mugabe (R) (AFP/Getty Images)
JOHANNESBURG -- Some of the estimated 3 million Zimbabweans living in South Africa have expressed outrage at opposition leader Morgan Tsvangirai's suggestion that he would be willing to consider amnesty for President Robert Mugabe if that would open talks leading to free and fair elections.

In a guest column in The Washington Times yesterday, Mr. Tsvangirai, who is president of the Movement for Democratic Change, described amnesty for Mr. Mugabe, his generals, ministers and secret police as "a Catch-22."

"If we say we'll bring these people to justice, they will cling ever more firmly to power. Yet, if we offer them unconditional pardon, we sell out the hopes of their victims: millions of people who have a right to justice," Mr. Tsvangirai wrote. However, he said that if it took immunity from prosecution to secure change, then it should be considered.

In Johannesburg, David Magagula, spokesman for the Matabeleland Freedom Party said he understood what Mr. Tsvangirai was trying to achieve, but added that those who had suffered would find it hard to accept.

"This will be an amnesty between Tsvangirai and Mugabe, and the people will never underwrite it," said Mr. Magagula, whose pregnant sister reportedly was killed by Mr. Mugabe's soldiers.

Tererai Karimakwenda runs an exile radio station that broadcasts nightly from London to Zimbabwe, where all daily newspapers and broadcast stations are run by government. He said he and his colleagues at Short Wave Radio Africa have been inundated with callers objecting to the concept of amnesty.

"This is a heated issue for Zimbabweans, and most do not understand why Mugabe must be offered anything," he said. "It seems Mr. Tsvangirai will have his work cut out selling this to the public."

There was no reaction to Mr. Tsvangirai's proposal from Mr. Mugabe, who yesterday criticized the country's Catholic bishops over a pastoral letter read out Sunday calling for a new people-driven constitution to avert bloodshed and mass uprising.

"Once [the bishops] turn political, we regard them as no longer spiritual and our relations with them would be conducted as if we are dealing with political entities and this is quite a dangerous path they have chosen for themselves," Mr. Mugabe, himself a Catholic, said.

Mr. Mugabe singled out Archbishop Pius Ncube of Bulawayo, one of his most outspoken critics, saying, "He thinks he is close to God, that's why he says he is praying for me to die. But unfortunately, God has not listened to him for all this duration."

After 27 years in power, Mr Mugabe's government stands accused of mass killing, torture, and, since 2000, the murder or disappearance of as many as 300 people.

Two years ago, he ordered bulldozers to clear shacks erected by the urban poor -- many of whom had fled to towns in the wake of a failed land-reform program -- and an estimated 1.5 million people were rendered homeless. Economic collapse has brought an inflation of 2,300 percent, and seen almost a third of the country's 14 million people forced into exile.
Western governments, including the United States, still refuse to recognize the 2005 election that returned Mr. Mugabe, 83, to power. Widespread electoral fraud and intimidation were reported.

From 1983 to 1987, troops loyal to Mr. Mugabe committed what some human rights groups have described as genocide, when they reportedly killed as many as 40,000 people in the southern province of Matabeleland, which has always been vocally anti-government.

In 1984, at the height of the campaign, Mr. Magagula said he and his family were forced to watch while soldiers cut open his pregnant 36-year-old sister, Thembiso, dragged out the fetus and crushed it in the dirt. Thembiso, who was already a mother of four, died shortly afterward.

"Why should [Mr. Mugabe] end his days in peace when I am so haunted by what happened to my sister," Mr. Magagula said. "It is unthinkable."

Claudia Mpofu lost family in the killings and, as a child of 12 watched her mother being kicked to death over a period of seven hours.

"I don't have the stomach to even slaughter a goat, but I would join a firing squad to kill Mugabe," she said.

Mr. Karimakwenda at the radio station said opposition to the idea of amnesty went across all colors, regions and language groups.

"Many of our listeners have personally experienced the brutality of police, army and the youth brigades. Some have been tortured, raped or had their homes burned down simply for wearing an opposition T-shirt," he said.

But in Johannesburg, newly arrived refugee Thomas Kundishora was more accommodating.

He fled Zimbabwe last week after being beaten for taking part in a strike and an anti-government demonstration. He has undergone surgery to put a pin in his left arm, which was broken during interrogation at a Harare police station.

"I think Mr. Tsvangirai is a very brave man to even propose the idea, and if that's what it takes to break the deadlock and move us towards democracy, then we have no option," he said.

But Mr. Kundishora agreed it would be hard to win majority support.

"Bringing the public on board will not be easy, and even if we have to make this sacrifice and let the killers and their commanders walk free, it will be a long time before the country can heal itself. The pain runs too deep for that."