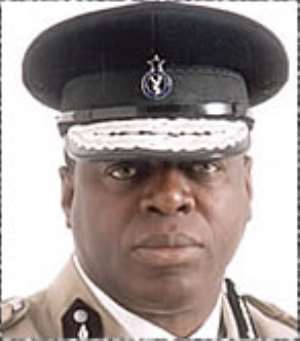 In a move to enforce discipline in the Police Service, the Police Administration has dismissed 39 and interdicted 26 policemen for gross misconduct.
The dismissals and interdictions took effect from the beginning of this month.
Further action will be taken against those on interdiction after thorough investigations.
The acts of indiscipline range from extortion, stealing, absenteeism, alleged murder, desertion of post, alleged dealing in narcotic drugs, defilement, defrauding by false pretences, assault and unlawful discharge of arms.
The Inspector-General of Police (IGP), Mr Patrick Kwarteng Acheampong, who disclosed this in an interview with the Daily Graphic in Accra on Thursday, said the service would have no mercy on lawless police officers and would rather deal ruthlessly with them.
He warned that henceforth any regional, divisional or district police commander who failed to supervise his/her subordinates would be held responsible for any acts of misconduct of personnel serving under him/her.
Mr Acheampong said the service could only thrive on discipline and asked commanders not to relent in their effort to instill discipline, since it was their moral, professional and national duty.
He directed all commanders to expedite action on all policemen and women who were facing administrative or service enquiries so that those found culpable would be dealt with accordingly.
He said those whose cases bordered on criminality would be handed over to the courts for prosecution and reiterated that his administration would not protect any police officer involved in any wrongdoing.
The IGP stated that the Police Administration would enforce all disciplinary procedures and service regulations to make sure that "today's policeman is upright in character and is prepared to provide quality service for the good people of Ghana".
He congratulated all good policemen who were working diligently to provide security and service for the people, adding that "the police will continue to play a leading role in providing internal security".
Touching on narcotic drugs, the IGP said the Police Administration had instituted measures which would frustrate the activities of drug barons and stop the drug menace.
Mr Acheampong advised members of the public to report any policeman who misconducted himself to the Police Intelligence and Professional Standards Bureau.
The IGP urged drivers to desist from giving money to police officers on the roads, saying that it was an offence for any driver to bribe a policeman.
He said any driver caught offering money to any policemen would be prosecuted along with that policeman.
He urged the public to co-operate with the police by offering useful information which would lead to the arrest of criminals.
Credit; Daily Graphic