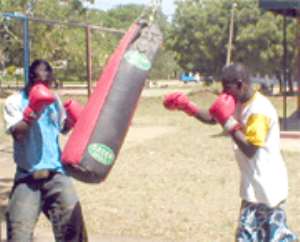 The national amateur boxing team, the Black Bombers, have finally been moved to residential camping at the C.K. Gyamfi Sports College ahead of their participation in next July's All Africa Games.
This comes after the boxers trained at the Fire Service Training School in Accra under tough conditions for several weeks.
The team, consisting of 13 boxers and their two coaches, left Accra for Winneba last Thursday and have already settled down.
The Black Bombers are now training at an outdoor gym located at a stone-throw from the main administration block of the college. With the exception of gloves, all the other equipment are already at the college.
"Since we started camping at the college some years back these standard equipment have been here," Coach Ofori Asare said. The gym has a ring that is fitted with a roof and railings which have punching bags, wall bags and target pads.
The Head Coach, Roberto Chavez, thanked the National Sports Council (NSC) and the Ghana Amateur Boxing Association (GABA) for moving the team into residential camping.
"Now the boxers can have concentration devoid of any distractions. They are also on good diet and this is very crucial in conditioning them," he said.
At the moment the boxers have two sessions of training a day — one in the morning between 6 a.m. and 8 a.m. and an afternoon session between 4 p.m. and 6 p.m. The boxers are lodging in the hostels within the main administration of the college.
According to Coach Chavez, he and his Assistant, Ofori Asare, will begin administering intensive one-on-one training for some of the boxers. This means that some of the boxers will train three times daily depending on whether or not they are on the time table.
Coach Ofori Asare also told the Daily Graphic that he had acquired a personal camera recorder which he uses to film some of the training sessions.
"During our free time we watch some of the clips and they help us to assess the performances of the boxers. I also have some clips of our tournaments in Gabon and Cote d'Ivoire which we watch from time to time."
Coach Asare also thanked Nana Ntiri Denkyi, a member of GABA, who consistently talks to them on phone to check on their level of progress as far as training is concerned.
Meanwhile, Nana Ntiri Denkyi, together with GABA Secretary General, Mr R.O. Lamptey, and some other members of the association, have presented some extra equipment to the team which were made available by the National Sports Council (NSC).
Coach Asare said the equipment included a punching bag, four pairs of sparring gloves, three pairs of punching bag gloves, a stop watch and a weighing scale.
Story by Nathaniel Attoh