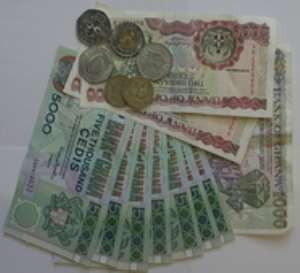 A payment and settlements system to establish a common payment switch with an accompanying smart card would soon be introduced by the Bank of Ghana.
The Governor of the Bank of Ghana, Dr Paul Acquah, said the new system would reduce the reliance on cash, bank notes and coins for business transactions and also extend a suite of services to the usually "unbanked" segments of the population.
He announced this at the formal opening of the Madina Branch of Opportunity International (OI) Savings and Loans Limited in Accra on Wednesday.
"There would still be the use of cash but with the redenomination, yes, the value is the same for easier transactions," he said.
He stressed that the new system would tie a single network of activities of the savings and loans companies and other non-banking financial institutions and strengthen the developmental impact of the financial sector as a whole.
Dr. Acquah challenged micro-finance institutions to reach out to communities where bank loans were scarce and small amounts of capital were needed to scale up entrepreneurial activities and also sustain living by reducing cost of setting up a business.
"Small and Medium Scale Entrepreneurs (SMEs) are individuals or group of people who put their funds, resources and lifetime savings and family assets at risk."
Dr. Acquah also urged institutions to focus on distributive justice and poverty alleviation to provide mechanisms to grow the SME sector.
Mr Benjamin Montemayor, President and Chief Executive of Opportunity International Savings and Loans, said the company had come to serve all Ghanaians with the best micro financial services available and also provide the best customer focused and transformational services.
He said it was their commitment that the services provided at their branches would be of benefit to their clients pointing out that "their business needs and expectations would determine the services we provide".
Mr Montemayor stressed that it was their dream to grow from serving 60,000 clients to 500,000 clients within the shortest possible time.
Dr Kwabena Darko, Board Chairman of Opportunity International, said the company was established to ensure that economically disadvantaged people in the country had access to financial services to transform their lives.
"It is our belief that every Ghanaian has access to a safe and convenient place to save their money."
Opportunity International is a member of a global network of micro finance organizations operating in 27 countries in Africa.
It has already opened nine branches in the country and is looking forward to reach out to a greater number of economically marginalized both in urban and rural areas.
It is also motivated by Christian values and is dedicated to providing opportunities to people in less developed countries through the promotion of quality products and services to clients.
Source: GNA