Only 408 pupils eat one free meal a day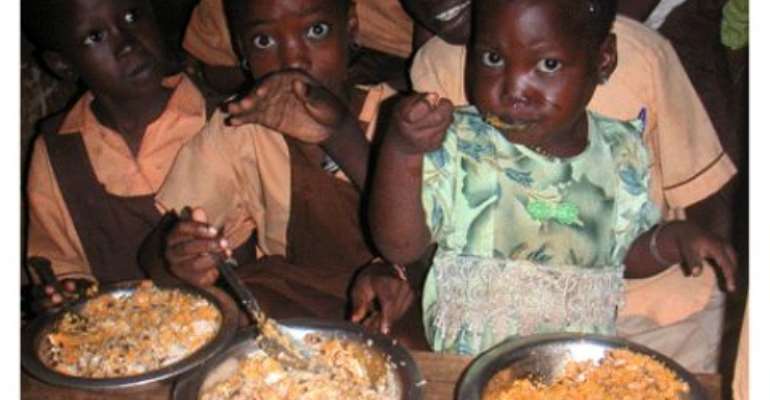 Enquiries and follow up visits arising out of the persistent political propaganda both within and outside the country that school children throughout Ghana are provided and actually enjoy one hot meal a day has revealed that less than five hundred (500) pupils are benefiting from the program.
This is contrary to the intensified propaganda by some political commentators, and according to the Ghana School Feeding Program only "408 pupils are being fed with one nutritious hot meal a day" throughout the country.
"It is NOT yet accurate to say all school children in Ghana are being fed every day," they added in an official response to a questionnaire administered to the Program.
Ghana's primary school enrollment is currently pegged at over one hundred thousand (100,000), meaning that far less than 2% of the targeted beneficiaries are actually benefitting.
The direct beneficiaries of the program, according to the GSFP are "children in primary schools and kindergartens in government-controlled establishments."
Over time, many have questioned the claims of a nationwide coverage and the reported increase in enrollment in schools occasioned by the free food for children and the 30,000 capitation grant.
In some of the schools where the pupils benefit from the feeding program, some parents have also complained about the quality of the food. A teacher in one of the participating schools however told the dailyEXPRESS that the food is nutritious and highly appreciated by the pupils who benefit, a view not shared by a senior lecturer of the University of Cape Coast.
The teacher noted however that they are not happy with the failure to provide (hand) washing bowls and the irregularity in delivering the food sometimes.
Government in 2005 introduced the Ghana School Feeding Programme (GSFP) on a pilot basis, aimed at encouraging parents, mostly in the rural communities, to send their wards to school.
GSFP officials explained to the dailyEXPRESS that the 408 pupils (only) being fed have been drawn from nine hundred and seventy- five (975) schools throughout the country.
Among the projected benefits of the Program are eradicating extreme poverty, promote gender equality, strengthen community food production, reduce short-term hunger and malnutrition, and increase enrolment into basic education.
Despite the low penetration of the Program, Emmanuel Abole of the University of Cape Coast says enrollment has been enhanced in the few schools benefiting from the Program.
Mr. Abole, a Senior Lecturer at the UCC told the dailyEXPRESS that in certain parts of the Central Region where extensive studies have been done by the education department of the University; there has been a study rise in enrolment.
He was however concerned about the quality of food, insisting that what is provided in some schools are not nutritious and can affect the health of the pupils.
Source: dailyEXPRESS Newspaper