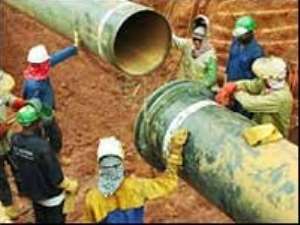 With the inauguration of the Gas Export Terminal over the weekend in Ikoti, , NigeriaOgun State, is expected to save between 15,000 to 20,000 barrels of crude oil daily from its intake of gas supplies from the West Africa Gas Pipeline (WAGP). Ghana
The gas export terminal, inaugurated by Presidents John Agyekum Kufuor, Olusegun Obasanjo of and Thomas Yayi Boni of , gives the green light for the $500-million WAGP to be operational. BeninNigeria
City and Business Guide has learnt that about 170 million cubic feet of gas a day (170 mmsfd) would initially pass through the transmission system to , and , 85 percent of which would be used for power generation while the remaining 15 percent would be used for industrial application.BeninTogoGhana
The project is set to provide affordable fuel for energy generation in the beneficiary countries and serve as a major foundation for regional economic development.
Referring to WAGP as a cornerstone project that was going to open up Africa and encourage partnerships, President Kufuor, Chairman of the African Union (AU), advised Nigeria and its political leaders not to allow emotions flowing from the widely-criticised recent elections to threaten the peace and security of their country, which was the economic powerhouse of the sub-region.
He asked them to use the constitutional approach to resolve their differences, adding any unfortunate situation there could destabilise the entire region.
President Obasanjo appealed to Nigerians not to tamper with pipelines carrying the gas. "It is not an oil pipeline. Do not say you want to find out what is inside".
According to President Yayi Boni, who described the project as "God-sent", his country and its next-door neighbour, , would greatly be saved by the gas supplies. Togo
In an address, Dr Mohammed Ibn Chambas, President of the ECOWAS Commission, said the inauguration of the terminal was an important milestone in the realisation of the WAGP dream conceived some 25 years ago.
He commended President Obasanjo for his sense of commitment to the WAGP and said it would remain a monument of his pan-African vision.
Between 10,000 and 20,000 primary sector jobs would be created in the sub-region by the project.
Additionally, it is estimated that apart from the already envisaged $1 billion investment for project and its power facilities, an extra $800 million in new industrial investment could be made.