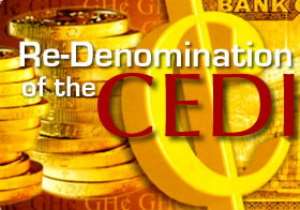 The bank of Ghana BoG, will tomorrow May 3, 2007 launch the new Ghana Cedis and Ghana Pesewas at the Bank's auditorium, Accra in the morning. High Street
The introduction of the new currency has become necessary as a result of re-denomination of the Ghanaian currency the cedi, which takes effect on July1, 2007.
When the re-denomination takes effect, ¢100,000 would represent the current ¢100,000.00 and ¢10,000 the current ¢100,000, while the current ¢10,000 would be the same as ¢1.00 with the new currency.
Officials of the bank say the added advantage of the new currency is that it would be less cumbersome to carry and also enhance business transactions while maintaining the value of the Ghanaian cedi.
It would also ensure that 's pesewas, which have long been non-existent in daily commerce, are brought back.Ghana
Speaking to GO in an interview about the fears that some have expressed about being duped in view of their inability to properly convert old prices to new prices when the new currency beings circulating, Esi Hammond of the Public Relations Unit, Bank of Ghana (BoG), said, " It won't happen," adding " It is never the case."
She disclosed that an independent research company, Research International conducted a research recently and came out with the finding that people in the Brong Ahafo area are able to convert the currency even better than those in the banking sector, contrary to views that those living outside have not grasped the re-denomination exercise.Accra
"With the new currency, however, much money can be stored into the device which can store into the device which can satisfy a lot more customers over a long period," she said.
The time pent at the counter at the bank checking and cross-checking large sums of money while other customers are kept waiting, thus losing many man hours would be a thing of the past, once the new currency is introduced, Esi Hammond said to GO.
Again, "If you have to quantify fear, you would realize it is an expensive thing," she said referring to the risk and fear that customers expose themselves to and experience when they withdraw huge sums of money from the bank.
"We would be saving a lot on the printing cost. Whereas we would need hundred ¢5,000 notes for ¢500,000 we would only required a ¢50 in the new currency which is its equivalent. In view of this we are saving the cost of 99 pieces of paper," she stressed.
"It is not the re-denomination or re-calibration of the cedis that would check prices and thus influence inflation but the interplay of sound macro-economic practices. Fiscal discipline is needed and when monetary polices go haywire that brings about inflation, but when government does its part nod does not overspend, that checks rise in inflation which has been kept steady for a while," the BoG official stated.